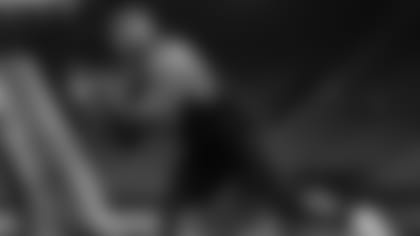 NFL football fans and teams have been aware for a very long time that great pro players don't necessarily have great Combine performances and great Combine performers don't necessarily have great pro careers.
Nevertheless, the NFL Combine, which recently concluded in Indianapolis, is a valuable tool for all teams on the road toward stacking their boards ahead of the draft. As a result, players do rise and fall significantly based on how fast they run, how far they jump and how well they interview.
Here are four Combine winners and losers now that all the dust has settled inside Lucas Oil Stadium, with pro days and private workouts to come before the grades get etched in value-board stone:
WINNERS
DT Quinnen Williams, Alabama (6'3" 303): Williams participated in only three events at the combine but wowed with his 4.83 seconds in the 40 at 303 pounds. **Rich Cimini of espn.com** noted: "As a comparison, Leonard Williams, picked sixth in 2015, clocked a 4.97 at 302 pounds." Q's 40 was the fastest by a 300-pounder in the last seven Combines. Not all mock drafts had him in the top three before last week, but this could cement his spot as a tempting DL option when the Jets are on the clock April 25 with their third overall pick.
DE Montez Sweat, Mississippi State (6'6", 260): Besides a neat name that hints at not only what he does on the practice field but also what he induces in sleeping offensive tackles the nights before games, Sweat poured it on in the 40 with a 4.41 time that according to **nflcombineresults.com** was the fastest by a D-end in the last 30 Combines, topping Dwight Freeney's 4.48 in 2002.
WR D.K. Metcalf, Mississippi (6'3", 228): Metcalf's biggest, or make that his smallest, metric was his 1.9% body fat, and of course his ripped photo whizzed around the Internet. He roared to a 4.33 in the 40 and did 27 reps in the bench — tied for tops among all WRs since 2004. He did less well in the 3-cone, short shuttle and position drills, displaying some flexibility issues, but he elevated himself into the discussion of who'll be the first wideout taken in the draft.
RB Justice Hill, Oklahoma State (5'10", 198): **NFL.com's Bucky Brooks** called Hill's combine "a brief but spectacular appearance." His 4.40 in the 40 and 40.0" leap in the vertical were both tops among this year's RBs and his 10'10" broad jump was tied for first. For a ballcarrier draft group that lacks star power, perhaps Hill will excited a few teams who can use an undersized back who, one report said, "runs like his hair is on fire."
LOSERS
T Greg Little, Mississippi (6'5", 310): Metcalf's college teammate and Kyler Murray's high school protector struggled. His 5.33 in the 40 was the slowest among 25 timed tackles, his 25.0" vertical was 24th. He salvaged his showing with a midrange 4.74 seconds in the 20 shuttle but still his draft stock took a hit.
DE Jachai Polite, Florida (6'3", 258): Polite wasn't too politic when he noted that many teams that interviewed him, except the Rams, ran him down. The 49ers, he said, "just bashed me the whole time." He didn't help matters with a 4.84 in the 40, 17th among 19 edge rushers at the Combine, and a 32.0" vertical, 15th among the edge men, in his only two events. He was considered by many a second-half-of-Round-1 pick, and **CBS Sports' Pete Prisco** before the Combine even saw him going at fourth overall to the Raiders. Now?
RB Elijah Holyfield, Georgia (5'10", 217): Yes, the son of Evander, but no, perhaps not the real deal in the draft's ballcarrier class based on his Combine drills. With a chance to rise up the RB boards, Holyfield turned in a 4.78 40, 22nd among the 22 tailbacks who ran, and a 29.5" vertical, tied for 20th among the 23 TBs who leaped.
QB Kyler Murray, Oklahoma (5'10", 207): This might be quibbling because Murray didn't do any heavy lifting at the Combine besides measuring up better than expected at 5'10" and by one source impressing in team interviews. But respected GM/scout Charley Casserly gave a widely reported and distinctly different analysis: "Leadership? Not good. Study habits? Not good. The board work? Below not good." The Jets are among the teams that hope Casserly's evaluation isn't indicative of a fall for Murray after his rise to first-overall-pick territory when he declared for the NFL over MLB and new Arizona HC Kliff Kingsbury appeared to show great interest.