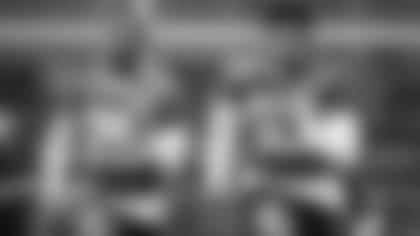 Four things that stood out at the Jets' Rookie Minicamp over the weekend.
1. Draft Picks, Work Over There
Gone are the days of all rookies going at each other as hard as they can (without pads) at this annual NFL rite of spring. Or at least gone are those days from 1 Jets Drive. HC Robert Saleh explained his theory that the Jets draft picks needed more conditioning than anything else due to the sometimes withering effects of those Top 30 predraft visits.
"They're coming in, they're going to be a little out of shape," Saleh said. "They've got to get acclimated to a new building and the way we do things. They're going to see a completely different speed, because our guys with the 'varsity,' if you will, it's been three weeks now of being part of Phase 1 and the first week of Phase 2, so they're moving at a different clip. And they're going to miss this week because they have to leave, so it's going to be four weeks of training for the varsity, so it's going to be a different speed.
"You're just trying to get them acclimated, one to the conditioning, so they're not falling out so early and subjecting themselves to injury, but at the same time, there's the meal plans, the nutritionist, the strength coach, the regen, all the different things that will get thrown at them, along with the playbook. It can get overwhelming."
2. Another QB for the Room?
So who practiced Friday and Saturday? Thirteen undrafted free agents and some 40 tryouts. One of the tryouts was a quarterback, Jack Coan, who completed 10 of 19 for 91 yards and a TD for the Colts last preseason. Also, he was a record-setting QB on Long Island.
More important for Jets offseason purposes: He started for Wisconsin in 2019 (when second-round rookie Joe Tippmann was a redshirt freshman), sat out 2020 with injury, then transferred to Notre Dame in '21, and went to Indy as a UDFA.
Those last two seasons in college, Coan was highly productive with a combined 67.4% accuracy, 5,877 passing yards and 43 TDs to 12 INTs.
"He has a talent, obviously," Saleh said. "I thought he did a really nice job, really impressed everybody. I know we're going to go back, watch his tape real quick just to see if there's more of a discussion to be had."
At Sayville HS, Coan set career Long Island career records with 9,787 passing yards and 128 TD passes while also rushing for 2,551 yards (6.5 yards/carry) and 33 TDs. He was a three-time Boomer Esiason Award winner as the top QB in Suffolk County.
3. Jets Have Pitt Covered
All NFL teams go through periods where, for multiple reasons, they start bringing in a lot of players from one college. The Jets over the years have had their phases with Ohio State, Penn State and Southern Cal. And now Pitt is getting some Green & White love.
The Jets even had a scout on campus in fourth-round tackle/guard Carter Warren. He's already talked a lot about fifth-round RB Israel Abanikanda. And during a break in minicamp activities, he got to provide a report on Deslin Alexandre, the 6-4, 275-pound edge-type D-lineman who in four Panthers seasons after a redshirt freshman campaign in 2018 totaled 131 tackles, 29.5 for loss and 16.5 sacks. His wingspan is impressive, as were his last two seasons as team captain.
"We came in together, we were in the same class, and we were battling every day," Warren said. "He was one of my great teammates, and he's going to do really well here."
4. He Won't Forget His Roots
Saleh was asked about a tryout whose career has taken some telltale turns. WR Hassan Beydoun is from Dearborn, MI, outside of Detroit. "Hometown kid," Saleh said. "Let's see if he can make it."
Whose hometown? Saleh's, of course. He grew up in Dearborn, graduated from Fordson HS there, then played ball at Northern Michigan. And he has a desire to give everyone on his roster, if not a job, at least a little NFL experience.
Andy why not Beydoun, who's been a football underdog most of his career? A lot of it probably has to do with his size: He's 5-8 and 175 pounds. After a solid senior season at Dearborn, Beydoun told CBS Detroit, "I had no offers, no interest, so I just decided to go to Eastern and start my life."
Except that his life still included football. As a freshman, he answered an ad in the student newspaper, walked on, and wound up playing in all or parts of five seasons. In '21 he set the Eagles' single-season record with 97 catches (for 1,015 yards), last season he led the team with 49 catches, and his 216 career catches are third-most in EMU history. All three years he was a nominee for the Burlsworth Trophy, awarded to the most outstanding FBS player who began his career as a walk-on.
Beydoun didn't win the Burlsworth. Then in April he wasn't drafted. And he wasn't signed as a UDFA. But the Jets came calling, offering him an invitation to try out at the Rookie Minicamp.
"Probably about two years ago is when I started really picturing myself playing at the next level," he said. "Did I picture the Jets specifically? I mean I had a dream one time that I was actually in a Jets uniform, but did I really think anything of it? No. But maybe dreams do come true."
See the top photos of the 2023 Jets Rookies on the field for the first time.