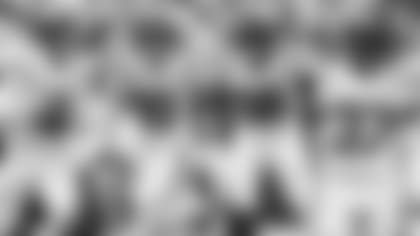 Four Jets players to watch when the Green & White play their second game in franchise history in London, against the host Atlanta Falcons on Sunday:
QB Zach Wilson — Not to lay too much pressure on the rookie's shoulder pads, but he and his receivers are coming off their best game of the season vs. the Titans, just in time to face the Falcons pass defense, which is last in the NFL in opponents' passer rating (121.0), tied for last in TD passes allowed (11) and 27th in opponents' passing accuracy (70.1%). Additionally, the Jets' ground game could use a boost to help the play-action game, and the Falcons' run defense is 22nd in yards allowed/carry. None of these guarantee success for Zach, Corey Davis, Jamison Crowder, et al., in North London, but all are good omens for a pass offense that took a big step forward 3,500 miles away in North Jersey one week earlier.
LB Quincy Williams — Sunday is another showcase game for C.J. Mosley, but it will be interesting to see Quincy and fellow LB Jamien Sherwood, RCBs Brandin Echols, Isaiah Dunn and the rest of the unit defend against Cordarrelle Patterson, who ATL coach Arthur Smith says "is making an impact, and it's fun to work with guys like that." CP can score out of the backfield on passes against LBs and safeties, as well grab Matt Ryan back-shoulder balls when split wide against corners. He's averaging 4.4 yards/carry and 13.1 yards/catch and is tied for the league lead with 5 TDs. Quincy's made some nice splash plays the past 3 games but he's also given up some yardage and will need to be ultra-disciplined against the Falcons' No. 84.
CB Bryce Hall — This is one of those odd games in NFL history, the first time since at least 1960 that two teams, both with zero interceptions, are playing each other in Week 5 or later. Who'll get the first pick? Could be Atlanta S Erik Harris, with 5 PDs. But we'll say Hall, and hedge it with one of his secondary mates, nickel Michael Carter II. Hall, the LCB starter, had his first 3 pass defenses of the season against Ryan Tannehill and the Titans. He's also done well in the Robert Saleh/Jeff Ulbrich scheme of not allowing completions over his head, yielding no TDs and only a 27-yard completion to Denver's Tim Patrick. And last week he showed some giddyup off the edge with 2 QB hits and the first half-sack of his pro career. Hopefully the Tottenham Hotspur Stadium pitch is to his liking.
WR/KR Braxton Berrios — Berrios' role was reduced on offense with the return of Jamison Crowder and could stay minimized if Elijah Moore comes back from his concussion. But BB is still productive receiving and running ends-around out of the slot. And he could loom big in this game due to his returns — he's averaging 13.3 yards/punt return, third-best in the NFL, and 23.3 yards/kickoff return, 11th (both minimum 4 returns). Meanwhile, Atlanta's PR defense is ranked 20th and its KR defense 29th. Field position is always important, and the Jets have improved their drive starts each game this season, but for the season both teams are around their own 25-yard line for every drive start. Great returns could tilt the field on this international stage.