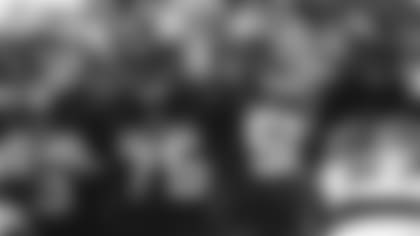 Four Jets to watch when the Green & White travel to the Hoosier State for their Thursday Night Football appearance against the Colts in Lucas Oil Stadium:
QB Mike White — Last week the question for the Jets and their fans was: Can he do it? This week it's: Can he do it again? White is an NFL darling these days — a low Cowboys draft pick turned Jets practice-squadder turned emergency fill-in QB turned AFC Offensive Player of the Week. White threw for 405 yards vs. the Bengals, completing 82.2% of his passes (third-best among Jets starters in a game with at least 20 attempts), threw three TD passes, caught one two-point pass and converted two third-and-1's. What can't he do? Well, we didn't see any long completions vs. Cincy, but with No. 1 WR Corey Davis' possible return to action and a Colts pass defense that vs. the Titans gave up a 57-yard A.J. Brown TD catch-and-run and is ranked 27th in yards allowed/pass play, perhaps White and the Jets will add that to their primetime portfolio.
LG Alijah Vera-Tucker — The Jets' precocious rookie continues to impress. On TNF leading off the NFL's 9th week of the season, he could be in the spotlight since he'll be going up against active 3-technique DL DeForest Buckner, whom HC Robert Saleh knows well since he was Buckner's 49ers D-coordinator for three seasons. Buckner will alternate between lining up over the outside shoulders of AVT and RG Greg Van Roten. Vera-Tucker will be a key blocker on the first tier and then on the second tier vs. top-tackling LBs Darius Leonard and Bobby Okereke on Michael Carter and Ty Johnson run plays. And he and the Jets interior will need to blunt the rush of Buckner, who leads the Colts with 4.0 sacks and eight QB hits.
LB Jarrad Davis — C.J. Mosley's leadership and tackling we know about, Davis' not so much. In his Green & White debut against Cincinnati, the unrestricted free agent from Detroit made three unassisted tackles while playing on 38 of the Jets' 56 defensive snaps. Mosley led the defensive front in a strong showing vs. CIN's Joe Mixon, who came into last Sunday's game third in the NFL in rushing yards but was held to 33 yards on 14 carries, five of those totes for losses. Now the Jets have to contend with Jonathan Taylor, who enters second in the league with 649 rush yards, at 5.4 yards a pop, plus 21 catches for 265 yards at 12.6 yards/reception. CJ, JD and company need to rein in JJ and company if the Jets hope to sack and turn over QB Carson Wentz.
DL Shaq Lawson — The fun-loving DL got his big outstretched mitts on Joe Burrow's first pass of the game vs. Cincy and one of his last, which he turned into his 13th pro PD and his first interception. So as of today Lawson has more sacks in the Jets' last 5 minutes of game action than the entire Jets defense has in the last nine full games. OK, that's unfair, but what Lawson no doubt would prefer is to work on Colts LT Eric Fisher, live up to his sometimes Sack-a-Shaq nickname and take down or otherwise harass Wentz into providing a pick or two to Bryce Hall, Brandin Echols, Michael Carter II, Marcus Maye and the rest of the Jets' back end men who would love a Thursday night "pick"-me-up.