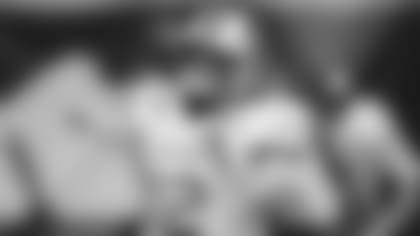 The Jets, in the middle of Joe Douglas' first draft as an NFL general manager, added a quarterback to their depth chart. And James Douglas has done quite the tour — from Brett Favre/Cheesehead territory in Green Bay, WI, to Bowling Green in football-mad Ohio, to Florida International for his last two years of college ball, and soon on to North Jersey after being selected in Round 4 by the team that he's very well aware brought in his icon, Favre, for the 2008 season.
Here are four (hint-hint) more things we didn't know about the Jets' new QB with a place in is heart for No. 4.
What's Not to Like?
How funky for Favre was Morgan growing up? Young James, packers.com tells us, wore No. 4 when starting out in youth football. He still remembers when he was 5 and his parents let him bust his bedtime to watch Favre's classic, magical MNF performance — four first-half TD passes and 399 passing yards in the Packers' 41-7 win over the Raiders.
Most impressive of all to Morgan, who shifted to Aaron Rodgers' No. 12 in high school, was Favre's style. "I was just mesmerized with how amazing that was and the performances he consistently put out," Morgan said at the Combine. "Just the gunslinger mentality I've tried to emulate with my own game."
Wearing 12 for One Final Game
Morgan's heroics and numbers have been detailed in other stories on newyorkjets,com. But here's one game we only heard a little about in passing: January's East-West Shrine Bowl.
Unknowingly wearing No. 12 for the last time — since, of course, the Jets hadn't drafted him yet and Joe Namath's number has been long retired — Morgan showed his juice at St. Petersburg's Tropicana Field to the tune of the starting assignment for the East, 9-of-14 passing for 116 yards, one touchdown throw, two TD drives, a 31-27 win over the West, and the game's Pat Tillman Award, which recognizes the player who best exemplifies intelligence, sportsmanship and service.
ESPN draft analyst Daniel Jeremiah said of Morgan's showing, "he was clearly the best quarterback in attendance." Perhaps something like a young Favre, who appeared in the 1991 East-West game and was selected as one of that year's Most Outstanding Players before heading to Atlanta and, a year, later, Green Bay.
Favre...Returns the Favor?
Will Brett lift a glass to young James? It so happens that at Brett Favre's Steakhouse, 1004 Brett Favre Pass in Green Bay, they have a wine list. One of the featured wines is described thus: "In a balanced and integrated style ... [this] Pinot Noir has leather, toast, minerals and vanilla with cherry-berry, rose petal and some spicy-earthy notes. It is medium bodied and broadly structured on the palate."
Leather? Balanced and integrated style? Possible description of the former No. 12 at Ashwaubenon HS? How about the wine's name: Twelve Clones? What's that a reference to? Finally, the vintner couldn't be more revealing: Morgan Winery.
No word from the young QB on his favorite adult beverage, but considering he was a captain at FIU and also at Ashwaubenon HS, maybe rather than a glass of Morgan, Twelve Clones, a certain spiced rum might work for the 23-year-old.
A Small Town That Thinks Big
Green Bay is the NFL's smallest market but plays really big in the league, always has. And that attitude filters down to every street and neighborhood, every school and team in town. They expect to play and win and advance like the Packers, and when they don't, it sticks in their cheesy craws. Such as when Green Bay didn't send a QB on to the NFL from 1988, when the Pack picked Wisconsin's Bud Keyes, to, well, the Jets' pick of Morgan in 2020. They applauded Morgan but why did it take so blasted long?
Morgan explains the origins of this mindset in a sentence. "Wisconsin athletes for sure have that hard-nosed, grind, Midwest mentality," he said. "And that's why maybe they don't get drafted but a lot of them could make it eventually."
Morgan's been drafted, but the hard work has just begun as he attempts to imprint his own name and number on Jets fans. Sam Darnold will have a big hand in keeping him on the bench for years to come, but Morgan said that's not a problem., due, no doubt to another facet of the GB attitude.
"It's just one step at a time, let the pieces fall as they may," he said. "My whole objective right now is to help the New York Jets win some football games."