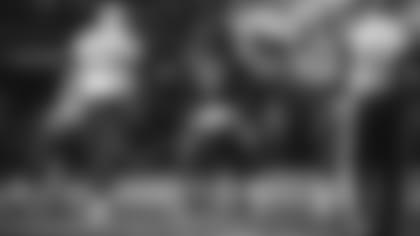 Despite outgaining the Patriots (4-4) by nearly 100 yards (387 to 288), the Jets (5-3) saw their four-game winning streak come to an end Sunday with a 22-17 loss to New England at MetLife Stadium. Here are three takeaways
Self-Inflicted Wounds
The Jets averaged 6.7 yards per play in Week 8 while the Patriots managed just 3.8 yards a play.
QB Zach Wilson, while throwing for more than 300 yards for the first time in his career (355), turned the ball over for the first time in four games with 3 interceptions.
His first pick came with 48 seconds left in the first half. Two plays later, CB Michael Carter II picked off Patriots QB Mac Jones and ran it back 84 yards for what would have been a Pick-6 if not for a roughing the passer penalty on DL John Franklin-Myers.
HC Robert Saleh said the refs' explanation was that Franklin-Myers hit Jones "too hard."
JFM added: "Regardless of the outcome, I have to be better."
The Green & White's special teams, uncharacteristically, made four blunders in Sunday's game. Braden Mann's first punt went 22 yards and he slipped on the second-half kickoff that set the Patriots offense up on their 38-yard line. Later in the third quarter, New England had a 32-yard punt return that put them that on the Jets' 27-yard line.
Jets K Greg Zeurlein also missed his first field goal since Week 1, pushing a 45-yard try in the third quarter wide left.
"This is a team that feasts on your mistakes and if you're just off by a hair, you're going to pay for it," Saleh said. "Collectively, we have to be better with the ball."
Third-Down Defense
The Jets defense struggled to get off the field on third down in the first half but reversed its fortune in the final two quarters. The Green & White allowed 16 yards on third-and-10, 13 yards on third-and-11 and 9 yards and third-and-5 on New England's second possession. 
"They were doing a lot of X-score screens," LB C.J. Mosley said, who led the team with 13 tackles. "Third-and-long we drop into zone and that's a lot of yards where nobody was around the receiver, so that's definitely where they were getting first downs off that."
The Pats converted 6 of 11 (54.5%) in the first half and did not convert a third down in the second half, finishing 6 of 19 (32%).
"I thought the defense did a really nice job settling it down," Saleh said. "Except for that one run they had down there in the start of the second half [Rhamondre Stevenson's 35-yard gain], I thought we played pretty well in the second half on defense. It wasn't enough, we have to play better."
Consistency on Offense
The Jets outgained the Patriots in yards (387 to 288), had fewer penalties (4 to 6), allowed fewer sacks (2 to 6), were better on third down (36% to 32%) and in the red zone (67% to 33%). The biggest discrepancy was in time of possession -- New England had the ball for 35:34 compared to the Green & White's 24:26.
Playing without WR Corey Davis (knee), rookie wideout WR Garrett Wilson led the team with 115 yards. He and TE Tyler Conklin, who had a season-high 79 yards and 2 TDs, tied for the team lead with 6 catches. The offense hit on chunk plays to Wilson (54 yards), Conklin (27), Denzel Mims (63) and Jeff Smith (23), but the Jets were held scoreless from 12:04 in the second quarter to 1:56 in the fourth.
"We have to more consistent," Garrett Wilson said. "We have to put drives together. The Patriots kept us on the sideline all game. It never was sit down and get back up. It was one of those things where they were making our defense work with the offense sitting on the sideline. We have to maybe take a note from them and be more consistent, put some drives together and eliminate those three-and-outs."
See the best images from the Week 8 matchup between the Jets and Patriots.