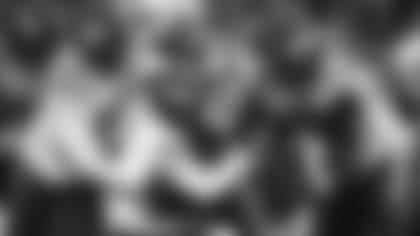 The Jets (7-6) fell to the Bills (10-3) in Orchard Park, N.Y., 20-12. Here are three takeaways from the Week 14 matchup.
Early Defensive Dominance
The elements were a big part of the story on Sunday, but the Jets defense made it feel like blizzard conditions for Bills QB Josh Allen and the Buffalo offense until the waning moments of the first half.
The Bills punted on their first five possessions as the Green & White held them to 59 yards and 2.6 yards per play.DT Quinnen Williams registered his 10th and 11thsacks, becoming the first Jets defensive lineman since 2015 to hit double-digit sacks, in the first half. He exited the game with a left calf injury with eight minutes remaining in the second quarter. He's considered day to day and HC Robert Saleh is hopeful Williams can play against the Lions at MetLife Stadium on next Sunday.
But the Williams injury coupled with a fourth-down offside penalty on LB C.J. Mosley helped things open up for the Bills. They got the game's first points with 26 seconds left in the half on Allen's 24-yard scoring toss to TE Dawson Knox.
"I tried to channel my inner Troy Polamalu," Mosley said, referring to the former Steelers player. "That was a QB-sneak look. And this year more than any, a lot of teams like to motion receivers, a tight end, anybody else to do a sneak, so I just took a shot when I thought I had one. If it worked out, it would have been the best play ever. It just didn't."
Saleh added: "I don't think there's a guy in that locker room that feels that we're not capable of so much more. Obviously, Buffalo, I'm going to give them credit -- they're a damn good football team and a Super Bowl contender and all that stuff. But we're a young team and we're an exciting team and I think there's a lot of confidence in that locker room."
Bam to Open the Second Half
For the first time this season, the Jets scored on their opening possession of the second half.
White led a 10-play scoring drive, converting on third-and-10 and third-and-12 with 13- and 25-yard connections to WRs Garrett Wilson and Braxton Berrios. Those key conversions preceded rookie RB Zonovan "Bam" Knight's 13-yard scoring run as he broke multiple tackle attempts before crossing the goal line for his first NFL touchdown.
"We came out and ran the same plays," Knight said. "It was just better execution. They told us we have to go out here keep executing. The line had to be better on its blocks, the running backs had to be better on their reads/keys. Everybody just had to be better overall. We took to that to heart and went out there and executed."
After rushing for 157 yards and amassing 221 yards from scrimmage combined against the Bears and the Vikings, Knight led all rushers with 71 yards against a tough Buffalo defense, while averaging 4.2 yards per carry.
Jermaine Johnson Blocks a Punt
Trailing by 13 points midway through the fourth quarter, the Jets were getting desperate. Rookie DE Jermaine Johnson, the last of the team's three first-round picks last April, came up the middle on fourth down and blocked Sam Martin's attempted punt. The ball went out of the back of the end zone and cut the Bills' advantage to 20-9. He is second Jets rookie to block a punt this season (DL Micheal Clemons).
"I was trying to grab it and score, but it bounced out of the back of the end zone," Johnson said. "That's better than nothing obviously. We got to safety and put the team in a position to try to go win it."
It looked like the Jets would immediately score following the safety, but S Damar Hamlin forced a Michael Carter fumble that LB Matt Milano, who was questionable to play with a knee injury, recovered deep in Buffalo territory.
"I was just trying to make a play, understanding where we were at that point in the game," Carter said. "We kind of needed a touchdown. We ran power, it opened up like Disney World and I just tried to go score a touchdown. It might have been Taron Johnson, I tried to run him over, I tried to crank him up and [Hamlin] made a good play."
See the best images from the Week 14 matchup between the Jets and Bills in Buffalo.