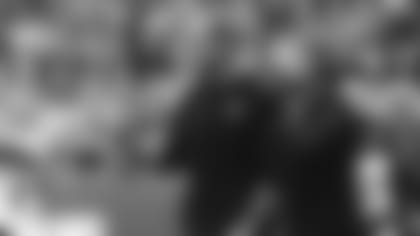 Robert Saleh said it all before in quick takes and sound bites over the previous two weeks. But as he sat outside the Palm Beach, FL, hotel in sunsplashed conversation with Eric Allen at the recent annual league meeting, he provided more details on his upbeat view of this year's (so far) unrestricted free agency class.
Wise Investments
Saleh has talked before about the character that the initial group of signees — TEs C.J. Uzomah and Tyler Conklin, G Laken Tomlinson, CB D.J. Reed and S Jordan Whitehead, along with the re-signing of WR/KR Braxton Berrios — brings to the Green & White equation. The coach has also talked knowledgeably over the past year about the dollar aspect of the game. He brought that up again in South Florida.
"Money only makes you more of what you already are. Period," he said. "When these young men are getting their second and third contracts and getting all this money, it's not their fault that they either revert or continue being whoever they are. So you go after the guys who are internally driven, who love the game of football. And you trust that if they're burdened with the responsibility of that extra money, their character and their true love of the game will always shine."
That Playoff Pedigree
That's what Saleh thinks that he and the Jets have gotten in this class, especially in postseason experience. Over the past three seasons combined, the five new young veterans above bring with them eight postseason berths, 22 playoff games, 15 PO wins and four Super Bowl appearances.
"They know what it takes. They know what a winning locker room looks like," the coach said. "Obviously you want your success to be homegrown. But when you get guys who are like Whitehead, Reed, Conklin, C.J. and Laken, you're bringing guys who not only know what it takes, but they're good dudes. They're not looking for a paycheck. The paycheck is icing on their cake of their love of football.
"So we've brought in the right guys that know how to do it. They know how to prepare. They know what that strain in the fourth quarter looks like, when you've got to make a play to end the game or win the game. We're really excited about the guys we've brought in, and continuing to add those types of people will always be in the forefront."
Flipping Coins, Flipping Franchises
But hasn't it been tough every offseason recently to convince those types of performers to come to One Jets Drive and stay awhile? Perhaps, but Saleh sees this class having a ripple effect on players' free agency decisions not just for the rest of this offseason but into the future.
"Whenever you're rebuilding something — and this is the fifth time I've been on the front end of a rebuild — the beginning's hard," the coach said. "You're on the front end of a rebuild because things haven't gone well for a while. The perception is you're not any closer to a championship than someone else. So you might lose out on guys who want to go after a championship, especially when the money's even.
"We wanted guys who wanted to be part of our organization as much as we wanted them to be a part of it. If all is equal, come on out, we'll flip this thing and we'll do things the right way. And if you choose to go in another direction, that's fine, too. We'll continue building, getting this place where it needs to be. And eventually those 50-50 balls will land in our favor and the perception will change."