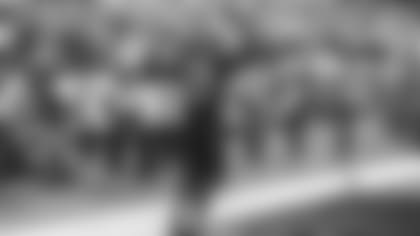 These notes on the Jets' nine home opponents this season will also appear in the New York Jets 2023 Yearbook, which will be published this summer.
vs. BUFFALO | MONDAY, SEPT. 11 | 8:15 P.M. | ESPN/ABC
ALLEN WRENCH: Josh Allen has won 6 of his 9 starts against the Jets, but the Bills QB also has had some twists and turns. The Green & White have held him to an 81.3 passer rating, his lowest against a division opponent, while the Jets' 19 sacks are the most by any NFL team against Allen and their 7 INTs are tied for the most by any team vs. Allen. Those items came into play in the Jets' 20-17 home win last year as the defense sacked Allen 5 times and picked him off twice.
vs. NEW ENGLAND | SUNDAY, SEPT. 24 | 1 P.M. | CBS
UNDER PRESSURE: Despite the losses in last year's home-and-home, the Jets put heavy pressure on Mac Jones and the Patriots. Jones was sacked 6 times at MetLife, then 6 more at Gillette Stadium three weeks later. Four Jets each had 2 of those 12 sacks — Quinnen Williams, Carl Lawson, John Franklin-Myers and rookie Micheal Clemons — and the dozen sacks were the second-most by the Jets of one QB in one season in franchise history.
vs. KANSAS CITY | SUNDAY, OCT. 1 | 8:20 P.M. | NBC
INSIDE INFO: Despite the Chiefs' recent NFL preeminence, the Jets have fared well against them at home, winning their last four since 2007, most recently 38-31 at MetLife in 2017. Can Aaron Rodgers-to-Mecole Hardman continue this trend and help the Jets defeat QB Patrick Mahomes for the first time? Rodgers has never played Mahomes before but Hardman knows him well, having made 165 catches of Patrick passes for 2,209 yards and 17 TDs in the past four seasons in KC.
vs. PHILADELPHIA | SUNDAY, OCT. 15 | 4:25 P.M. | FOX
SUMMER MINDSET: As Green & White fans are well aware, their team is oh-for-the-Eagles — 0-12 overall, 0-6 at home, the most recent loss coming in their first "17th game" in 2021, by 33-18 at MetLife. It's obviously not the same thing, but perhaps channeling a summer vibe could help the Jets get over their Philly hump. Since 1997, the Jets are 17-6-1 vs. the Eagles in all preseason games and 10-1-1 in home summer games.
vs. L.A. CHARGERS | MONDAY, NOV. 6 | 8:15 P.M. | ESPN
RATINGS BATTLE: The Jets have lost their last 4 games to the Chargers and their last 2 at home. And QB Justin Herbert had a fine passing day in the teams' last meeting, the Jets' 2020 road loss at LA, throwing 3 TD passes and no interceptions for a 116.5 passer rating. But have the Jets acquired an edge now? Aaron Rodgers is 2-1 all-time vs. the Chargers and has thrown 7 TD passes and no INTs en route to a 114.3 rating.
vs. MIAMI | FRIDAY, NOV. 24 | 3 P.M. | AMAZON PRIME VIDEO
ATTENTION, DOLPHINS: The Jets' 40-17 mauling of Miami in last year's Game 5 at MetLife Stadium featured rookie RB Breece Hall's 197 scrimmage yards and 79-yard catch-and-run, the longest reception by a Jets RB in 24 years. The 23-point victory margin was the largest over their AFC East rivals in their last 30 meetings and also the largest in their last 18 home games, or since the 2004 Jets folded the 'Fins 41-14 on Monday Night Football.
vs. ATLANTA | SUNDAY, DEC. 3 | 1 P.M. | FOX
NEW QB, OLD SCRIPT: The Jets' most recent wins over the Falcons were led by QBs in their first years with the Green & White. The last victory was 10 years ago, with rookie Geno Smith showing the way to Nick Folk's walkoff FG for the 30-28 verdict in 2013. Their last home W: 25 years ago, Vinny Testaverde guided the 28-3 Meadowlands rout in 1998. Can Aaron Rodgers follow suit? One favorable omen: He has 21 TD passes to 2 INTs all-time vs. ATL.
vs. HOUSTON | SUNDAY, DEC. 10 | 1 P.M. | CBS
TWO OUT OF THREE: The Jets' .667 winning percentage in their series vs. the Texans is their best against any AFC opponent. They improved to 6-3 with a win in the teams' most recent meeting in 2021, a Jets comeback from a 14-3 second-quarter deficit to a 21-14 triumph at Houston. That was Robert Saleh's first road victory as Green & White HC. This year Saleh's troops will try to improve their mark against the Texans at home to 4-2.
vs. WASHINGTON | SUNDAY, DEC. 24 | 1 P.M. | CBS
POPULAR NUMBER: The Jets in 2019 assembled a three-game winning streak in which they scored 34 points in each game. The middle W came by 34-17 at Washington. That was also the Jets' third straight win over the Redskins, now Commanders, and in each of those three games, the Jets scored 34 points. Their most recent home win was by 34-20 at MetLife in 2015. Eight years later, is it time for another Green & White 34-Skiddoo?