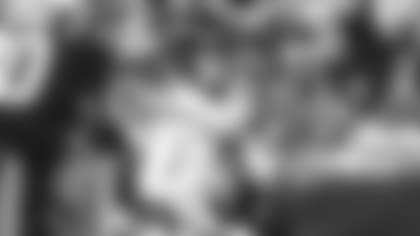 Zach Wilson saw most of Sunday's game against the Patriots from a place no competitor ever wants to be watching.
After the Jets rookie quarterback sustained an injury to his right knee during a second quarter drive on Sunday, and after a lengthy evaluation on the field and in the sideline tent, he was accompanied to the locker room. Wilson was initially listed as questionable, then ruled out of returning to the game.
"It was frustrating," Wilson said after the Jets 54-13 loss to New England at Gillette Stadium. "I just sat there [in the locker room] asking if I can go back in there. Once I realized that was probably not the best thing to do, that we needed to find out what's wrong, I watched the game on my phone."
Wilson is scheduled to have an MRI on his injured knee on Monday, a knock that he said apparently affected his PCL (posterior cruciate ligament). But in the locker room, Wilson, who completed 6 of 10 for 51 yards before departing, said that he dove right into rehab and stimulation treatment.
He was replaced by backup QB Mike White, who completed the second quarter drive, which ended in a TD pass to Corey Davis. White finished out the quarter and the rest of the game.
"First you worry about your friend," said White. "He's out there on the ground and you worry about his well-being. Then you realize that it's my shot to go in and help execute the offense. I told myself don't do anything crazy, compete in the system and go from there."
It was the second time on the possession Wilson appeared to have been hit late. Two plays before Matthew Judon's hit knocked Wilson out of the game, Wilson scrambled to the near sideline and dumped the ball out of bounds and was hit low on his left knee by DT Lawrence Guy.
"It's my understanding that when you're out of the pocket, they can go low," head coach Robert Saleh said. "On the play he was hurt, I thought it was fine. He was hit and his knee drove into the ground, which caused the injury." He added: "He'll be evaluated tomorrow and we'll see where we go from there."
With the Jets trailing New England at the time by 17-0, Wilson bought some time before unleashing a long pass intended for Keelan Cole on the Patriots' goal line. Kyle Dugger was called for interference on the play, a 46-yard penalty, but it came at a cost for the Jets.
"I'm not saying the one I got hurt on was a bad [hit], I didn't think he tried to hurt me," Wilson said of Matthew Judon. "The first one, he [Guy] went for the knees and I think it was a little out there. But I think injuries are just part of the game."
Describing the play on which he was injured, Wilson said: "I threw the ball off my front toes and my foot got stuck in the ground. The dude fell on it with all of his weight. I felt the knee twisted and I felt a pop, thinking worst-case scenario in my head. I hope it will be alright and I can get back out there."
After Wilson was forced from the game, White entered and after three plays found Davis in the back of the end zone for a TD. It was White's first pass attempt in the NFL, his first completion and his first TD pass. He later threw his first interception. In the game, White 20 of 32 for 202 yards, 1 TD and 2 INTs.
The Jets next face Cincinnati on Sunday at MetLife Stadium, then have a quick turnaround before playing at Indianapolis on Thursday night, Nov. 4.
"It ran through my mind, I was praying it was not a worst-case knee injury," Wilson said. "At first, it wasn't painful. There was the pop and I felt a twist and I knew it felt different than getting a bruise. I knew something happened. It felt unstable. I'm sore, I thought I could move it at first. I just lay there getting my thoughts together. Even now I'm trying to figure out how to make it better."