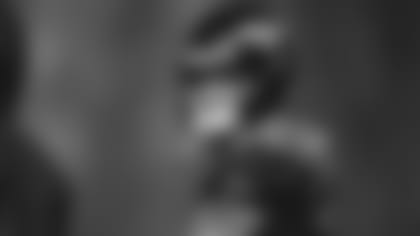 It's been Zach Wilson vs. the NFL for a while now. It was Zach vs. Sam Darnold on opening day. And the Zach and Mac Show, Wilson vs. fellow first-rounder Mac Jones and the Patriots — twice. And Zach vs. the injury bug, with Wilson finally getting the upper hand on his knee issue and returning to action after four weeks.
Z-Dub vs. T-Law? That's not something the Jets' rookie QB is worried about.
"We both have different situations, different teams," Wilson said following Thursday's practice about finally going up against Trevor Lawrence, the top pick of the draft and the flowing-haired franchise QB who will lead the Jaguars against Wilson and the Jets at MetLife Stadium on Sunday. "One thing I learned through combine training is it's not like me against him. We both can have success.'
Wilson clearly has some favorable impressions of Lawrence. Some of it came from training for the NFL Combine in March, but the Jets QB said it goes back farther than that.
"I think all of us have heard about Trevor since almost high school," he said. "He's had a different journey than me, for sure. It's tough to obviously come from nothing in my situation, but I think it's almost harder to come from his situation, where no matter where you've been, people have labeled you as the best. He's done an amazing job of not listening to the noise, the expectations never got too high for him, and he just handled his own business.
"But coming out of high school as the No. 1 quarterback, out of college as the No. 1 quarterback, then the NFL, it's tough, so I've got a lot of respect for him."
Yet the success Wilson alluded to has been elusive for both young signal-callers to attain in their first seasons in the pros. Wilson has started 10 games and posted a 2-8 record; Lawrence is 2-12 through all 14 Jags starts. Both are completing under 60% of their passes. Both have turned the ball over 10-plus times.
Meanwhile, both have also shown sparks of what they can become in the coming seasons. And Zach, in his four starts since returning from his knee injury, has even racked up some better numbers than Lawrence lately. He's cut down on his interceptions, led more touchdown drives. And while Wilson is no shrimp at 6-2 and 208 pounds, he's started to rise up and show that escapability to his play in the past two games against the Saints and Dolphins that Lawrence at 6-6 and 220 always seems to have had.
Wilson said he's been expressing the desire to play freer and looser to O-coordinator Mike LaFleur "for a while."
"Just go out there and play kind of loose. And when I say that, I mean still within the structure of the offense, still going through my reads, still making sure I do things the right way. But reacting with the natural feel I was given, not just force myself to stay in one spot and try to go through the reads. Just play football. You know where guys are going to be, you know the timing of the play, so then just go out there and play football and react to what they're giving you."
And that can lead to good things happening for your team, even with just three games left in your first NFL season.
"Guys get beat up this time of year, but besides that, mentally I'm excited, looking forward to the challenge to play, even at this point in the year," he said. "I just feel like I need it, feel it's going to be good for us as a team. I'm really just looking forward to go out there and work on things I need to get better at and get as many reps at things as I can."
And, even though going up against "a great dude" and "a cool guy to be around," to beat the pants off Trevor Lawrence in the process.
"Do I want our team to beat the Jaguars? Yeah, I do, and I hope to go out there and play well," Wilson said. "But I don't look at it as me against Trevor or my stats against Trevor's. That has nothing to do with it. It's all about the win. How can I get my team in the best position to beat them."
See the Top Photos as the Jets Prepare for Sunday's Game Against Jacksonville