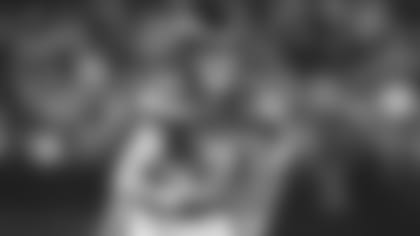 Jets QB Zach Wilson continued his summer of "fun" Saturday night, using his arm and legs to guide the Jets on a pair of field-goal drives and build on what has been a strong training camp for the third-year signal caller.
"These games are fun and this whole offseason has been that way because after every single rep and every single play, there's always something to learn from and go back to," Wilson said after the Jets' 13-6 loss to the Buccaneers at MetLife Stadium. "I am just trying to put my best foot forward and I think just really having an understanding of how to be grateful that I get to play football for a living."
Wilson made his longest appearance of the preseason, playing the entire first half against Tampa Bay Buccaneers. Wilson completed 9 of 13 passes for 70 yards and an 82.2 QB rating and ran twice for 41 yards including a highlight-reel scamper.
In the second quarter, Wilson dropped back and felt the pressure from the right side, spun out of the pocket, evaded the edge rusher and took off down the sideline. The electric run went for 35-yards and led to a 38-yard field goal by K Greg Zuerlein.
"They did a good dropping everyone out on that one," Wilson said. "Where I was trying to go with the ball, their linebacker was sitting underneath it. So, I told myself in this game if they want to drop some guys I got to try and get down to my outlets and get out of the pocket."
"It was my goal to use my feet a little bit tonight. We have been in camp throwing it quite a bit and trying to stay in the pocket and get rid of it, but part of the game is trying to extend plays after two. So, I actually wanted to try and get out of the pocket and work on some of that stuff too."and work on some of that stuff too."
Head coach Robert Saleh would have preferred Wilson gave himself up on the play but loved Wilson's decision to run. Wilson sustained a knee injury against Philadelphia in the Jets' first game of the 2022 preseason, forcing him to miss three games to start the regular season.
"You would love for him to slide out of bounds there and call it a day," Saleh said. "But he is such a competitor that it is hard sometimes to jump in his headset right there and ask him to go out."
Wilson also continued to build chemistry with undrafted rookie WR Jason Brownlee. The pair linked up for 4 receptions for 50 yards.
On third down early in the first quarter, Wilson hit Brownlee on a slant for 8 yards and a first down. Brownlee slowly came off the line and then burst into space to make the grab. The reception kept the drive alive, and it resulted in a 30-yard field goal.
"We have been working really well together in practice," Brownlee said. "So now we have just started to drag it into the game. I think we work well together."
Wilson has had a turnover-free preseason and was proficient again through the air. taking what the defense gave him and throwing to the short and intermediate parts of the field.
This preseason, Wilson has completed 26 of 38 pass attempts (68%) for 258 yards and one touchdown.
"Last year, I didn't feel nearly as comfortable as I do now," Wilson said. "For whatever reason, I feel like I tried to be confident and comfortable last year, but whatever reason there is a much better understanding of what is going on now."