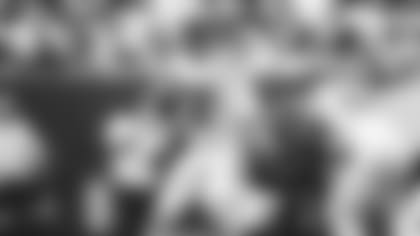 Rookie head coach Robert Saleh had a question for his rookie quarterback after Zach Wilson led the Jets to a heart-stopping 27-24 overtime win over the Tennessee Titans at MetLife Stadium on Sunday: "Are you having fun yet?"
And there was Wilson, baby faced, sweatband tied around his head growing up in front of our eyes, earning his first victory in the NFL, Saleh's first win as a head coach and more importantly, the team's first victory of the season after three weeks of struggles and questions.
Never once did the coaches or his teammates question Wilson's drive and ability ... and neither did the flamethrower from BYU.
"I wouldn't say we've fully arrived," said Wilson, who was 21 of 34 for 297 yards and 2 TD passes (both in the second half) in the game. "This is just another puzzle piece of where I want to get. Now we have to stack the blocks. This was a step in the right direction."
No. Make that a giant step.
"Talk about young kids, because that's what they are, getting the ball rolling," Saleh said. "Their confidence starts to snowball. Today he showed everything what we see in practice. The kid was outstanding. He's got resolve and he's a playmaker."
As they have so far in the 2021 NFL season, the Jets started slowly. Tennessee had a 9-0 lead before Wilson took the Jets on an 11-play, 75-yard drive that Michael Carter capped with a 2-yard TD drive (aided by a late push from the offensive line), his first NFL touchdown. On that drive, Wilson was able to collaborate with Corey Davis on two connections for 43 yards. He also connected with Jamison Crowder, who returned to the lineup after missing three games, and scrambled to complete a pass to Keelan Cole on the sideline.
"I felt like a lot of tension fell off of everybody doing what we know we can do," Wilson said. "The guys were looser. I was playing looser, I felt more confident in the huddle. I was more confident in huddle.
"There were those three-and-out the past couple of games. And you could feel tension."
Wilson and the Jets came to play -- big time in the second half -- when he completed 10-of-15 passes for 175 yards, 2 TDs, no sacks and no interceptions.
It was a masterful performance on multiple levels:
• After taking a 10-9 lead on a Matt Ammendola field goal, the Jets went 77 yards in 4 plays. Wilson pounced on a ball he bobbled, composed himself and launched a 29-yard pass to Crowder to the Titans' 5, then hit his slot receiver with a TD pass.
"I checked to the second play," Wilson said. "Presnap I knew this is going to be, I knew he would be open. The second the ball was on ground I picked it up, quickly got my eyes around, Jamo made heck of a catch. I'm glad he's back. As soon as I picked up the ball, I was trying to find him down the field."
• With the game tied, 17-17, the Jets got back the ball after a punt. On the first play, Wilson scrambled to his right and motioned for Davis (4 catches for 111 yards) to go deep. Wilson launched a frozen rope of a pass that Davis corralled on his way to the end zone for the 53-yard scoring play.
"We ran our naked keeper to the right," Wilson said. "Corey was not part of the play. But he showed up across the field. The corner played Keelan on the sideline. The safety is running on Corey's butt across the field and there's no one deep. I pushed Corey down the field. We had a chance for a big play. That's part of my game, just reacting."
Saleh, watching the play develop, said: "No. No. My God, no. He had the confidence to roll and make the play."
After Tennessee scored late to tie the game, 24-24, Wilson and the Jets took the OT kickoff and drove to the Titans' 1-yard line, facing a second-down play. The Wilson pass intended for Ryan Griffin was too low. Then his naked bootleg resulted in a loss and Ammendola kicked the go-ahead FG.
"We were going for it [on fourth down if the ball was still at the 1]," Saleh said. "It's a big lesson for him. Just throw it away and let's go win the game."
Wilson said: "It should have been over then."
But it wasn't. He watched from the sideline as Randy Bullock's last-gasp field-goal attempt sailed wide left.
"For Zach, just letting the game come to him, he didn't make any mistakes, he made right reads and put the ball where it needed to be," Saleh said. "He was boring when he needed to be. He did a really, really nice job playing this game."
LB C.J. Mosley, who with Quincy Williams combined for 25 tackles and 2 of the team's 7 sacks, was pleased with the rookie's performance.
"He's a fighter, great composure," said Mosley, who had a team-high 13 total tackles. "As a rookie [after the first three games] he could have gone into a hole, but he stayed with it. He's been a calm player the whole time the past few weeks. He comes to work every day prepared, studying. And when you prepare the right way, nine out of 10 times it will come. This was the type of game where you make your plays and build confidence."
In a video posted to Twitter immediately after the game, Wilson: "Jets fans, what up? Crazy win. Emotions are crazy. A lot of fun. It was intense and we appreciate you guys bringing that energy and juice. On to the next. Here we go."
Yes, and there they will go ... to London later in the week to face the Atlanta Falcons next Sunday morning, New York time.