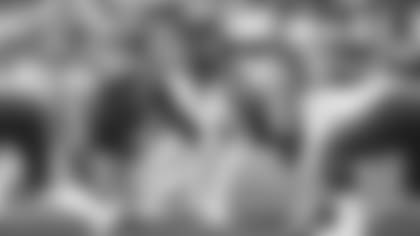 For a long time this afternoon, it appeared that the student might best the master, that the young cowhand might just bell the GOAT.
In the end, Tom Brady led another comeback victory over the Jets, this one for the defending Super Bowl champion Tampa Bay Buccaneers. Zach Wilson and the Green & White opened a 14-point lead over Brady's Bucs, equaling the largest second-half lead over any Brady team in any venue from 2001-21, but couldn't hold it over the game's last 22 minutes.
Yet Wilson was not downcast in the wake of the 28-24 loss to Brady and the Bucs, preferring to elevate the Jets' recent growth over their fall-from-ahead fate in this one game.
"Yeah, that's the goal, that's the mindset every single week. We're working for more than just one game," Wilson told Bob Wischusen in the Jets' postgame MetLife Stadium locker room. "It does suck, it hurts, because we had it right there. But the guys have got to keep their chin up and understand that we're getting better every time, we're on the right path. We've got to keep working, doing our thing, and things will take care of themselves."
Wilson has been very much a part of that growth over his and his team's last six games, when he returned from his knee injury to take the offensive reins again. In this game he certainly didn't outplay Brady but he played the legendary QB toe to toe for most of the game.
Wilson completed 19 of 33 passes for 234 yards and a touchdown toss to Braxton Berrios early in the second quarter. His three touchdown drives went for 72, 74 and 66 yards. He turned a bad first-half ending into a surprising positive, taking rookie CB Brandin Echols' interception of a Brady pass toward midfield and squeezing out 19 more yards to get Eddy Piñeiro in position for a 51-yard field goal and a 17-10 halftime lead.
For the fourth straight game, Wilson didn't throw an interception, making it four complete games and 136 pass attempts without a pick.
Unfortunately, when it came to the Jets, with the 24-20 lead, deciding even after a timeout to go for it on fourth-and-2 at the Bucs 7-yard line with 2:17 to play, the Green & White offense ran into a brick wall of Bucs. But that play, head coach Robert Saleh explained, was not on his young QB.
"We were a yard away from keeping the ball out of the greatest player in football history's hands. I'll take that yard every time," Saleh said of the decision to go for it, explaining, however, that the problem was in getting the call from the coaches' box to the huddle.
"That's Mike to Zach. It's simple. He calls the play and says, 'Hand this ball off no matter what.' That's all the communication that needs to be said. It never got across. Zach executed the playbook as designed," Saleh said, saying in response to another question, "We have to be better as a coaching staff in terms of communication and making sure that everything we want is exactly the way it needs to be done. That's a first down to Berrios and we're talking about something completely different right now."
"We had pretty much two different plays in one," Wilson said, adding of his no-gain keeper instead of the desired flip to Braxton Berrios. "I thought that's what the defense was giving me based on my parameters. We gave it a go and unfortunately it came up short. It's always easy in hindsight to say why didn't you kick it, why didn't you do something else? We pick up two yards and everyone's talking about how great a call it was. I like the aggressiveness of our coaches."
Wilson said Saleh told him and the team that the fourth-down call was on the coaches, "but I think everyone's just being a little hard on themselves, obviously because of what happened. I think, just from an offensive perspective, we just have to execute the play that was called. They're learning for next time. If next time they really do want that handed off, then we'll communicate that. I just think when something doesn't work out, it's easy to say after the fact."
The great thing about today's outcome is that neither Wilson nor Saleh nor anyone else on the Jets was letting it diminish an otherwise uplifting effort. Wilson was without his top three wideouts and top two tight ends, lost his top RB in Michael Carter in the first quarter due to a concussion, lost one of those TEs in Dan Brown plus LT George Fant during the game, and still put together 24 points and 374 yards of offense that was looking like a winning hand until the last deal.
"Yeah, it was unfortunate, it really was," Wilson said. "Right now, as a team, all we've got to understand is that this game today wasn't what we're really working for in the future. Yeah, we're right there and there's one play all the way around and one yard all the way around that goes in our favor and the game's over. But we took a step in the right direction and I think the guys have got to understand that.
"That's exactly what we needed. We needed to give those guys a game and we came in ready to play and guys worked their butts off and we left it all out there and I think that's all you can kind of ask for right there. Guys gave their all."