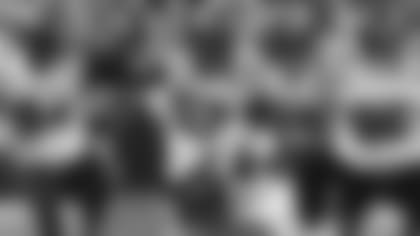 The ball continues to be in Zach Wilson's hands as Jets head coach Robert Saleh announced this week that Mike White is still not cleared to return to action and Wilson will start again Thursday night against Jacksonville.
And while Zach's return against Detroit wasn't perfect, he did seem to benefit from the observational period with some better mechanics and improved passing numbers: 317 yards for his second 300-yarder this season and in his Jets career, and seven completions for 20-plus yards — the last time a Jets QB had more "explosives" in a game, it was Ryan Fitzpatrick completing eight 20-plus passes at Buffalo in 2016.
"When he's in rhythm and hitting on all cylinders," Saleh said of Wilson, "it's pretty cool to watch."
But Zach knows the deal. He's got to keep improving his accuracy, reducing his turnovers and finishing strong, because if the Jets don't want to conclude their season at Miami in early January, they have to keep winning down the stretch.
Besides Wilson, here are five more Jets to keep tabs on as the TNF game against the Jaguars unfolds at MetLife Stadium:
WR Corey Davis — Saleh is "very confident" Davis will be back in action after missing Detroit in the concussion protocol. That's important because Zach Wilson conspired with WRs Garrett Wilson, Elijah Moore and Jeff Smith for six of those aforementioned longballs. With a more muscular running game, Z.Wilson should be able to keep finding his WRs downfield. Davis has 16 "explosive" catch-and-runs the past two seasons as a Jet, second only to Moore's 17, while G.Wilson already has 12 with three games to go. (More on Garrett in Saturday's Inside the Numbers.).
TE C.J. Uzomah — Uzomah was the pass-catching flavor of the week vs. Detroit with his 40-yard and 1-yard touchdown grabs. Against J-ville, it could be Tyler Conklin's turn again, but keep in mind that Uzomah, while used less than Conklin in the Jets' passing game so far, came to the Green & White from Cincinnati with comparable receiving numbers to Conklin's at Minnesota. Also food for thought: Detroit marked the third two-TD game of Uzomah's career. His first came last season, five catches, 95 yards and two scores in the Bengals' 24-21 home win over ... the Jaguars.
LBs C.J. Mosley and Quincy Williams — The 'backers will be front and center. Mosley's on another 160-tackle tear and Williams is again leading the Jets in tackles for loss/no gain (11.0). But it's also about controlling some key Teal & Black components — RB Travis Etienne, who's making up for his lost rookie season by averaging 5.0 yards/carry and 8.8 per catch and has already cleared 1,000 scrimmage yards, and TE Evan Engram, who's come on strong in the JAX passing game the past three weeks. And C.J. with his savvy and Quincy with his energy could jumpstart the Jets' turnover machine. Mosley had a 28-yard strip — one of the longest sacks in Jets history — of Lawrence last season.
DL Quinnen Williams — As Saleh said about the calf injury that KO'd Quinnen for the Lions, "It's going to go up to kickoff, or when we declare actives, but it feels a lot better than it did last week." The Jets would love for Williams to bring his interior pass-rushing and run-stopping abilities to the fore. It's also worth noting, along with the Mosley strip mentioned above, that while Lawrence has thrown only seven INTs this year and a mere two picks on the road, he's also fumbled nine times, six on strip sacks. Four of those FUMs came at Philly in Game 4, so has Trevor truly tightened up that part of his game, or can the Jets pass rush, with "Q" contributing however he can, sack the QB and coax the ball loose?