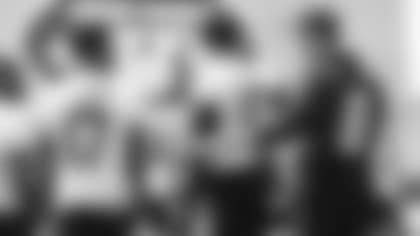 This is one in a series of articles that will also appear in the New York Jets 2023 Yearbook, which will be published later this summer.
New Jets quarterback Aaron Rodgers made an immediate impression on not only his new teammates but his new head coach, too.
"I've never been around a quarterback quite like him, personally, and all his experience, his communication," Robert Saleh said. "Every play talking to the receivers, talking to the backs, his demeanor in the meetings, all that stuff. He is practically another coach out there. He's pretty impressive."
"How vocal he is in good way and how positive he is with the group and how much he wants to share his knowledge — it's impressive," Saleh said. "He's coming to win. You can just feel it in his voice and you can see it in his eyes, the way he's going about his business."
Rodgers, a four-time NFL MVP, four-time first-team All-Pro and 10-time Pro Bowler, participated in the offseason workout program, acclimating to his new teammates such as WR Garrett Wilson, the league's NFL Offensive Rookie of the Year last season.
"Everyone's going out to put work in with a smile on their face knowing that it's a lot of learning to do," said Wilson, whose 83 receptions and 1,103 yards in 2022 led the Jets and set franchise rookie records. "The expectation is high with Aaron. We all know that and that's what we want. So for us, it's all the excitement to get to work and the excitement to perfect our game every day. He pushes us to that, for sure."
Following 18 years in Green Bay and after being introduced as the Green & White's new signal-caller, Rodgers quickly embraced the bright lights of New York City and especially Madison Square Garden. He went to a Rangers-Devils playoff game with a group of teammates and attended a Knicks playoff game with CB Sauce Gardner.
"Being able to be around a veteran guy like him, a down-to-earth guy — I didn't know he was that funny," Gardner said. "Just being able to spend some time with him, it was great, man. Everybody knew who he was."
Gardner said No. 8 plans to help No. 1 in Year 2 as teams try to attack the NFL's Defensive Rookie of the Year this season.
"He was telling me he has the secret gems he can give me," Sauce said. "Just hearing that from him made me respect him even more."