Mark Sanchez came out of the locker room handing out fives.
I don't mean five-sbills. I mean handslaps. Before the start of a skeleton drill, low fives to all his receivers. Coming up the field for another drill, a slap for OC Brian Schottenheimer. After the final horn blew, right before stretching, a handshake to tryout RB Allen Patrick.
The first-round quarterback's new teammates, at least the ones working with him in the non-tackling rookie minicamp that began under the Atlantic Health Jets Training Center fieldhouse roof this morning, have noticed, and they have to hand it to him as well.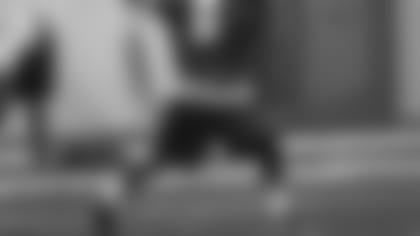 "Some quarterbacks go to their guys. He's got to do everybody," said RB Jehuu Caulcrick, who's one of the dozen first-year Jets also participating in this camp. "It builds everyone's spirits, makes 'em feel good about themselves, makes you want to block for that guy."
Third-round RB Shonn Greene dropped a pass out of the backfield from Sanchez, for which RBs coach Anthony Lynn had him do 10 pushups' penance. Then on his next route, Greene made a nice grab from Sanchez going the other way to beat tryout LB Brian Toal. Sanchez jogged out, gave Greene some skin, then gave Toal some skin as well, not as a taunter but as a teammate.
"As the quarterback, you've got to be upbeat," Greene said in the locker room after practice. "You're considered to be the team leader. You've got to keep people up. You're got to be in a positive mood so everybody else is in a positive mood. That's what you need to pick guys back up. We're all going to mistakes here and there."
Sanchez surely made some of his own, but for the 50-plus media people in the fieldhouse balcony, he made a great first impression. He hit Paul Raymond on a sideline go route off a pumpfake for a 45-yard "touchdown" and right before the end of practice deftly slipped a well-designed screen pass to Green, who took it downfield behind his blockers for, oh, about 20 yards.
The former Southern Cal signalcaller also displayed his effective hard count, which drew Nebraska DL Ty Steinkuhler offside before one snap.
Eric Allen talked with Sanchez after practice. He'll have that story for you a little later this afternoon.
Manny Collins is one of the 16 tryout players at this weekend's minicamp. You may remember the former Rutgers CB who was signed Aug. 2, 2007, was a final cut, then was signed three times to (and released twice from) the practice squad. He was re-signed in January 2008, waived three months later. Since then he had a stay in Ravens camp and worked out with teams in the Arena League and the CFL.
"I stayed in touch with the Jets' director of pro scouting, Brendan Prophett — we talk all the time," Collins said. "And I've been working out with two other Rutgers guys, Brandon Renkart and Jamaal Westerman, who are both here at this minicamp."
Collins may seem old by now but he's only 24.
"This is the first time in a long time I've been on an NFL field in a long time. I'm just having fun," he said. "I'll play offense, defense, special teams. I'm just trying to play football — it's the thing I love. Hopefully this time's the charm."
We'll get the free agents' uniform numbers to you as they are integrated into our Website roster, but you may want to make note of these veteran number changes on your flipcard at home. Donald Strickland, who was looking to slim down from his No. 34, has received 27, vacated when Abram Elam was traded to the Browns. First-year CB Marquice Cole, working at this camp, takes over Strickland's former 34. And DE Marques Douglas, who wore 94 with the Ravens and Niners and started out as 71 with the Jets, is now No. 93. ... Second-year QB Erik Ainge is not participating in this minicamp, but he has returned to the off-season strength and conditioning program at the AHJTC after several weeks away due to personal reasons.