(Editor's Note: The New York Jets' 2013 Yearbook has been sent to the printer and will be available beginning the week of July 22, which is also the week that training camp opens at SUNY Cortland. To whet your appetites for the book, we're presenting each Tuesday for the next three weeks short excerpts of stories that will be appearing in the book. Today's excerpt is my introduction on the Jets 50th Anniversary story that, along with many classic photos in the Yearbook, encapsulates the theme for the coming season.)
This year we can call them the Green & White & Gold.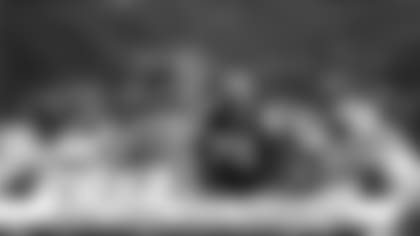 No, we're not talking a new throwback uniform, but a historic season is ahead. While the franchise began life as the Titans of New York for the 1960 season, the Jets didn't emerge from the Titans' ashes until 1963.
So all this season we'll be celebrating the 50th anniversary of the birth of the J-E-T-S.
The history books tell us the Green & White began life on March 28, 1963, the day that sacred five-man syndicate — Sonny Werblin, Townsend Martin, Leon Hess, Don Lillis and Phil Iselin — purchased the Titans franchise for $1 million. A couple of weeks later, on April 15, Werblin, that irrepressible impresario, renamed the team the Jets, after the "jet age" and the increasing number of flying machines passing overhead.
More 50-year-old firsts were to follow that season. But the most important players and events were yet to come, spread out over decade after decade. These are the people and plays we're recognizing in 2013.
Many have been memorialized on the ticket package designed by Joe Rey and sent out to Jets season ticket holders this year. The six images on this Yearbook's cover and several of the photos in this spread were selected after a vote by season ticket holders as to their favorite moments of the past 50 years.
To be sure, there haven't been enough titles. But there have been plenty of moments in green — and gold.