The opinions, analysis and/or speculation expressed on newyorkjets.com represent those of individual authors, and unless quoted or clearly labeled as such, do not represent the opinions or policies of the New York Jets organization, front office staff, coaches and executives. Authors' views are formulated independently from any inside knowledge and/or conversations with Jets officials, including the coaches and scouts, unless otherwise noted.
From the start of "draft season," the word out of scouting rooms across the NFL has been that the 2014 draft class is very deep at wide receiver. There certainly is plenty of talent, and most fans can rattle off the top prospects the way a third-grader runs through the alphabet: Watkins, Evans, Lee, Beckham, Benjamin, Cooks, etc.
But the truth is that Watkins and maybe Evans could be the only WRs taken in the top 10, and the real value at the position may be in the middle to later rounds.
That's good news for the Jets. While we've all heard about how the Green & White need to upgrade the talent at the skill positions, it's important to note that they probably need more than one receiving threat. Eric Decker is a start but not a true No. 1. If they could come away from the first two rounds with one of the top TEs in this draft (Ebron, Amaro, Niklas, Seferian-Jenkins), that will solve another piece of the puzzle for QB Geno Smith.
The team still needs a receiver with size, strength, speed, ability to separate, strong route-running skills, and the ability to take the top off a defense. That's the definition of a true No. 1.
In our last article, we mentioned the Jets need to be looking at the cornerback and tight end positions early in the draft. If you follow that blueprint, all six of the players listed above will be out of the mix. If the Jets see Marqise Lee, Odell Beckham (shown below at the Combine) or Brandin Cooks dropping in Round 1, they should jump on that.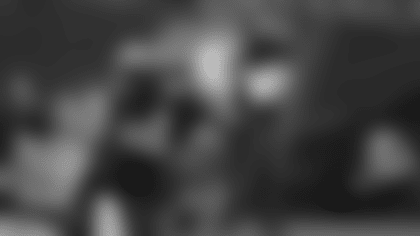 Beckham has the best size of that group and is a game-changing athlete. He can also get open and get downfield. Nearly half of his catches a season ago were for 15 yards or more. Lee is an excellent route runner who can run himself open, find space vs. zone, is a tremendous runner after the catch, and had success, despite some inconsistency in 2013, beating coverage on vertical routes. Both are tremendous workers and high-character guys who are the sons of professional athletes.
Cooks is crazy fast — his 4.33 in the 40 was the fastest time posted at the Combine. But his route-running and ball skills may be unmatched in this class as well. We love productive guys, and Cooks had 120 catches in 2013, more than 30 of them for 20 yards! All three of those players are fits for what the Jets need.
Florida State's Kelvin Benjamin has been linked to the team recently, but while he has great size and the look of a dominant red zone threat, the list of things he doesn't do terribly well is a little too long for our liking. He's inconsistent catching the ball, still needs a lot of technique and route-running refinement, and didn't run particularly well (4.61, not bad for a 240-pounder but not great for an NFL wideout). If he slides to Round 2, he becomes more attractive as a project and role player, but he doesn't look like a first-round talent to us at this point.
So what do the Jets look for in a wide receiver later in the draft? Here are some players who have caught our eye:
Donte Moncrief, Mississippi — A big receiver at 6'2" and 221 who is deceptively fast and a smooth route runner who shows great burst in and out of his breaks. Separates consistently, doesn't drop many balls, and is a willing blocker. Doesn't get the play of some better known receivers but is every bit the player. He won't last past the second round.
Jordan Matthews, Vanderbilt — Jerry Rice's cousin is extremely productive, can play inside or out, runs precise routes, and will make the tough catch. He's bigger than fellow Commodore Earl Bennett but doesn't possess ideal speed and struggled a bit at the Senior Bowl. That could cause him to fall into Round 3, where he would be a steal for the Jets.
Bruce Ellington, South Carolina — A shorter receiver, but he has a thick lower body and excellent burst and quickness off the snap that will help him separate at the next level. He's a guy who makes plays in space with the ball in his hands. Also a returner.
Dri Archer, Kent State — We love the value in this part of the draft! Archer, a back in college, will most likely be a fit in the slot at the next level, but he has great versatility and can line up just about everywhere, including as a returner. He has 4.2 speed and plays with great effort, toughness and production (4,980 yards and 40 TDs for his career).
Devin Street, Pittsburgh — Another 200-plus-catches guy, he's a big target at 6'3" and 200. Not exceptionally fast but catches everything in his reach. He'll fight for contested balls and for every yard after the catch.
Michael Campanaro, Wake Forest — Productive with 229 career catches, and had 67 in just eight games as a senior. Smart and hard-working, shorter than you'd like (5'9") but stronger and tougher than you'd think.
Late Rounds & Free Agents
L'Damian Washington, Missouri — A 6'4", 200-pounder who runs a 4.4 40 is worth taking a late-round flyer on or signing as a free agent. Highly unpolished, but has size and speed to develop into a deep threat.
Austin Franklin, New Mexico State — A lanky receiver who plays tougher and more physical than his appearance. He gains yards after contact and is a willing blocker and has good acceleration and elusiveness in the open field. Ideal slot guy.
Matt Hazel, Coastal Carolina — Needs to add bulk and strength to compete at the next level, but as a project guy he catches everything, has played inside and outside, and ran the full route tree in college. He had 183 career catches, too. Build him an NFL body and he could contribute.