Feeling Good**: Under Woody Johnson's leadership, the Jets have posted nine winning seasons and appeared in 12 playoff games. Johnson, who watched practice today at the team's Atlantic Health Training Center, is excited for Year 2 of the Mike Maccagnan/Todd Bowles era.
"I just do feel good. It's Year 2 for Mike and Todd and they've had a chance now to start to put their stamp on the team," he said as the players walked onto the practice field. "Just watching the decision process and the players and how they approach the draft and their team gives me room for hope and optimism."
Better Bowles: Johnson, who hired Bowles after the latter had a successful 15-year run as an NFL assistant, believes the best is ahead.
"I think he's going to be more comfortable, better," he said. "Smart guy. Todd's very smart and very direct. I think the players respect when he speaks and what he has to say."
Singular Focus: While the Green & White haven't made the postseason since 2010, Johnson issued only one mandate. He likes the direction of his team and he's clearly onto Cincinnati.
"We try to win every game, we try to get into the playoffs every year and that's our goal. In fact, go further than that," he said. "But you have to do it a game at a time, so I'm not going to play the whole season out in advance. But we have Cincinnati and then Buffalo. We're going to start with Cincinnati and see what we can do there. I go into every game thinking we're going to win that game."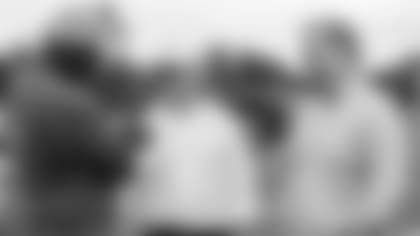 A Conversation: When asked what he'd do if one of the Jets declined to stand during the national anthem, Johnson said he would want to have a talk with that player.
"It wouldn't be my first choice," he said. "I think I would have a conversation at that point with him and try to find out what's motivating that person to do that."
A Harvard Guy: After re-signing QB Ryan Fitzpatrick before training camp, Johnson said the veteran signal caller is the right guy to lead the Jets.
"I'm not trying to challenge anybody. He knows what's at stake," said the Jets CEO. "He's a Harvard guy, so he knows how important this year is for him. Every year is important for us. We're happy to have him back. He's fired up. He's going to be good at leading the team. He's a good leader of his guys. I think they respect him."
9/11 Tribute: Johnson said it will be "big" for the Jets to host a game on the 15th Anniversary of the Sep. 11 attacks.
"The ceremony is going to be a good ceremony, honoring the people who lost their lives on 9/11, the first responders," he said. "We'll have some players from that team and I think it's just going to be an unbelievably moving ceremony in honor of those people."