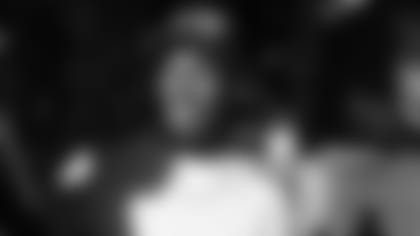 There's a reason Jets GM Joe Douglas is called Trader Joe. And he showed us who he is again on Friday on Day 2 of the 2022 NFL Draft when he engineered a swap of draft picks with the local rival Giants and selected Iowa State running back Breece Hall at No. 36 overall.
On Thursday, Douglas completed a multifaceted trade with Tennessee to move back into Round 1 and nab Florida State DE Jermaine Johnson II, the Jets' third first-round selection. In all on Thursday, teams made nine trades. On Friday, Douglas saw another guy he wanted and he went out and got him, sending the Giants picks No. 38 and No 146.
In Hall (5-11, 217), the Jets foresee a worthy complement to second-year RB Michael Carter. An improved offensive line, plus the addition of WR Garrett Wilson in the draft and the signing of two new tight ends -- C.J. Uzomah and Tyler Conklin -- could do wonders for opening up the Jets' wide-zone offensive scheme and give second-year QB Zach Wilson a full complement of weapons.
Hall said that he had good meetings with Jets coaches at the NFL Combine and also over several video chats.
"Just getting into those formal meetings at the Combine, then in informal Zoom meetings, having the coaches get to know me and getting those interactions in," Hall told reporters Friday night. "Just from the vibe I got from them at the Combine, they were different from a lot of coaches in some of the meetings. It was good to get in there and get to know all the coaches and talk to them about my game and what they thought I could get better at and all that stuff."
In three years at Iowa State, Hall totaled 3,941 rush yards on 718 carries (5.5 yards/carry) and 50 touchdowns, and really turned it on as a starter in 2020 (1,572 rush yards to lead FBS, 21 TDs) and '21 (1,472 rush yards, topping the Big 12, 20 TDs), securing consensus first-team All-America and Big 12 Offensive Player of the Year honors in both seasons.
Additionally, he totaled 82 receptions for 734 yards (9 yards/catch) and six more TDs in his ISU career. He also had finished his career with 5 TDs on runs of more than 75 yards.
Asked to tell Jets fans the type of player they're getting, he said: "A three-down back, a guy who can catch the ball and make people miss. Run you over, and somebody that plays hard. A person who's just as good off the field as on the field. So, a guy who is going to impact the community and be more than just a football player."
Hall joins what is now a backfield with Carter, Tevin Coleman, Ty Johnson, Austin Walter, La'Mical Perrine and FB Nick Bawden. Carter, a Douglas' fourth-round pick in 2021, led the club with 639 rush yards last season while averaging 4.3 yards per carry and caught 36 balls.
"Seeing what he did last year what he did at North Carolina ... I got to watch his game a lot," Hall said. "He's a bruiser but he can also make you miss. I think I can come in and complement him really well. I can't wait to get in there and just learn from him, just for me to ask him questions whenever I need to and him to teach me the ins and outs of being a running back for the Jets."