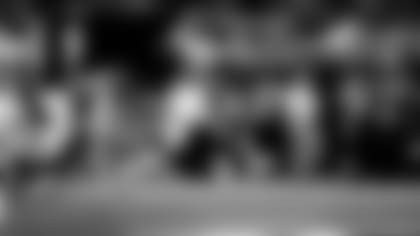 Without RB Le'Veon Bell for a second consecutive preseason game, Ty Montgomery shined as the lead horse in the Jets' stable.
Montgomery and the starters played just over one quarter and came out firing on all cylinders. Montgomery opened up the game with a 4-yard run up the middle. Three plays later, he took a handoff 14 yards, bouncing off a few tacklers and set the visitors up on the Falcons' 12-yard line. Shortly thereafter, the RB-WR had a 6-yard rush that gave the Green & White a 3rd-and-4 inside the 10. Quarterback Sam Darnold and Robby Anderson connected to move the chains and the following play, Montgomery capped off a six-play, 66-yard opening drive with a deft 1-yard touchdown run.
The RB-WR showed good vision on the score as he took the ball from Sam Darnold, saw no room up the middle and bounced left where he outran Falcons S Ricardo Allen and CB Kendall Sheffield.
"Inside run zone called, I felt the defense press into the line of scrimmage and I decided to test the tie on the edge," Montgomery said. "I thought I had and I took it. My guys did a great job, Chris (Herndon) did a great job coming around the edge and I believe he logged a guy to let me get there."
Of the six plays in the first drive, Montgomery's number was called on four of them. In his short stint, he totaled 36 rushing yards on seven carries for an average of 5.1 yards. He did his work on the ground working behind an offensive line that was missing four of its projected opening-day starters.
"We've just got to stay the course," Montgomery said. "We've just got to keep stacking them. I love what we're doing in the first drives right now, starting fast. We just have to continue to be consistent throughout the game."
Eager for a fresh start, 6'0", 216-pound dual threat signed with the Jets in March after playing with the Packers and the Ravens last season. Like Bell, he is a player who can line up anywhere and create mismatches. Head coach/offensive playcaller Adam Gase will have a lot of options with both players. He can always spell Bell with another skilled, versatile performer and the options are plenty if they both are in the game at the same time.