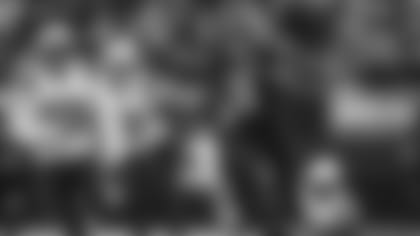 After the Jets offense lost two key contributors, RB Breece Hall and OL Alijah Vera-Tucker, for the season after they sustained injuries last week in Denver, and Corey Davis, one of their top wideouts to a knee ailment, they leaned on other contributors.
Wide ReceiverWith Davis out, the Jets coaching staff WR Garrett Wilson an increased workload. He was targeted 7 times and eclipsed 100 yards receiving for the second time in his NFL career (Week 2 at Cleveland), registering 6 receptions for115 yards, the most so far in his rookie season.
"With Corey being out, it was a chance to get Garrett on the field a bit more," HC Robert Saleh said.
In the first quarter, QB Zach Wilson connected with Garrett Wilson for a 54-yard completion that set up K Greg Zuerlein's 28-yard field goal — the game's first points. The wideout ran a double move, breaking toward the sideline and then back up field.
At the start of the Jets' next possession, the Ohio State product caught a pop pass and ran for 23 yards. He had a 10-yard reception on the sideline on the next play. TE Tyler Conklin scored the Jets' first touchdown to cap the 6-play, 75-yard drive.
"On the opening plays of the game we were getting in a groove out there," Garrett Wilson said. "Coach [OC Mike] LaFleur had some plays scripted for me, we got the looks we wanted and I just got to do my job. Not doing anything special, just kind of getting the balls in the open and making plays."
WR Denzel Mims also saw extended action in his second appearance of the season. Mims caught 2 passes for 76 yards. With just under four minutes remaining in the game, he made a catch in traffic, pinballed off a pair of defenders and ran for 47 yards to the Patriots' 25-yard line to complete the 63-yard catch-and-run play. Conklin finished the drive with his second touchdown, cutting the deficit 22-17 — the final score.
Running Back
With Hall out injured, RB Michael Carter led the Jets in rushing with 7 attempts for 26 yards. Carter, who led the Jets in rushing as a rookie last season, also caught 4 passes for 35 yards.
James Robinson, who was acquired in a trade from Jacksonville last week, made his Jets debut and worked his way into the rotation. He ran for 17 yards on 5 attempts.
"I loved it," Robinson said of his first game in green and white. "I got more comfortable as the week went and in the game. The atmosphere was great. … I thought the balance was pretty good with the other running backs."
Tackle
Cedric Ogbuehi, who replaced Vera-Tucker in the win over the Broncos, started at RT. The offensive line surrendered 2 sacks – the two coming in the fourth quarter – against a defense that entered Sunday's matchup ranked No. 5 in the NFL in sacks.
"I think we did a great job communicating," Ogbuehi said. "I'm still new. I'm still learning. But everyone did a great job of helping me identify things and I think we gelled really well. I think we are going to keep improving together."
Matched up mostly against Matt Judon, the NFL's sack leader (8.5), Ogbuehi held his own against Judon, who was hada tackle and a PD.
"He's a good player," Ogbuehi said. "I'll see him again in two games. It is a good matchup and he's a good player."