Every day in our nation and across the world, relationships break down and abuse follows. And sometimes that abuse leads to murder. Love is nowhere to be found, but Betty Maccagnan, the wife of Jets GM Mike Maccagnan, is determined to help stem this dangerous tide.
Already active within the community, Betty found her calling with the One Love Foundation, which works with young people across the country to raise awareness about the warning signs of abuse and activate communities to change the statistics around relationship violence.
With watery emotion in her gentle eyes, Betty remains deeply connected to Janet McAfee. She thinks of her every minute as she works to help raise $500,000 to create a permanently staffed One Love office to serve New Jersey high schools and colleges and she also stresses the need to raise additional funds to keep the Foundation's content fresh and relatable.
Community Broke DownOn May, 3, 2010, University of Virginia student Yeardley Love was beaten to death by her former boyfriend in her off-campus apartment. Five days later, Janet McAfee was shot to death by her husband, Ken, in their Houston, TX home.
While Betty didn't immediately hear about the story of Yeardley Love, tragedy struck close to home less than a week later. Betty shared a friendship with Janet McAfee and both Maccagnans knew the McAfees.
"She died of several gunshots. It was an eight-hour ordeal," Betty said. "There were many failures on my part."
"That was a very traumatic experience, losing our friend," added Mike. "And to do it like when somebody literally lives across the street from you and you knew both people and were friends with both people. Janet was a very giving person with a very sweet soul."
Oftentimes when people witness domestic abuse, there is a tendency to step back. It's not that people don't care, but they don't know what to do. There is an apprehension to involve yourself in someone else's business.
"There were a lot of signs in both cases. Yeardley had recently broken up with her boyfriend and Janet was trying to finalize divorce," said Betty. "The time of a break up within an abusive relationship is the most dangerous and when victims are at most risk."
Looking back, Betty can see the warning signs clearly. But at the time, Janet's friends hoped for a good outcome.
"There was a lot of confusion and I watched the community around her break down," Betty said. "A lot of the neighbors said I don't want to deal with that because there's a lot of drama and a lot of commotion. People do what people do, they step back. Not your problem, so they don't want to get involved."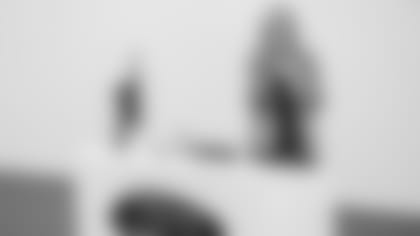 "This Is It"Both Betty Maccagnan and Mike Maccagnan testified in Ken McAfee's murder trial and he was sentenced to 99 years in prison after being convicted in the fall of 2013. The jury need only a few hours of deliberation before reaching its verdict.
But Betty, who refers to the day Janet died as her most "epic failure," remained restless. Janet was gone and domestic abuse was becoming even more of an epidemic. Then Katie Hood, who is CEO of the One Love Foundation, made a presentation at the NFL Owners Meetings last spring.
"We always talk about being involved in the community and giving back and it has to be something that you're passionate about. I think Mike already knew when I was at the owners meeting what had just happened because I tend to talk a lot and get very animated," Betty said. "I was saying, 'Oh my gosh, oh my gosh. This is it.'"
"I didn't really know anything about One Love before that meeting. I think Betty had gone during the day and she came back and we met up before dinner. I just remember her talking about it," added Mike. "She said, 'You have to choose it, you have to see this.' It impacted her quite a bit. it definitely struck a chord with her."
Founded in 2010 to honor the memory of Yeardley Love, One Love wants to do for relationship behavior what MADD did for drinking and driving — stigmatize the behavior and get bystanders to take away the keys. The facts are scary as while 94% of adults in the country will never commit violence against their partner, 1 in 3 women and 1 in 4 men will experience relationship violence in their lifetime.
Betty and Ms. Hood instantly connected and the idea of hosting a One Love Escalation Workshop at the Jets facility was born.
"One Love has grown because fortunately our paths have crossed with people who are really awesome advocates and believers right away who say this is a no-brainer and how do I involve my community," said Ms. Hood. "That could be a student, or it can be Betty. Betty was just like we're going to get this done. She was smart about making it saying let's focus on education. Let's do this with local schools, let's make people see what this is really about."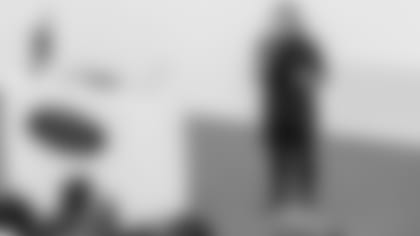 The Seed We PlantOn Tuesday, Oct. 25, the Jets hosted a One Love Escalation Workshop at their Atlantic Health Training Center. More than 150 students, guidance counselors, coaches, teachers, principals and athletic directors representing high schools and colleges throughout the area were in attendance. The workshop started with a fictional film about a couple on a college campus, moving from their exciting early days to a tragic end.
"After the film is over, students broke into workshop discussion groups facilitated by my team. Our workshop discussion guide was developed by experts and it takes you through scenes in the film," said Ms. Hood. "It gets the young people talking about what happened, what could have happened and other ideas what the friend could have said. There are key takeaways for every point. It's mostly focused on the film and invariably people end up talking about their own lives."
Emotional abuse almost always precedes physical abuse. Warning behavioral signs include isolation, concerns about friends and those closest to the abused, name calling and erratic anger. The workshop focused on educating young people on those earliest signs, so prevention is attainable. The goal is simply to provide a framework for understanding what's okay and what's not, so people can help themselves and their friends.
"I think that One Love is trying to empower and this is what I'm trying to do, to bring together the young men and young women in high school and college," Betty said. "I want to empower them to do what I didn't do. That's the whole point of today and I have to say it's a strange turn of events because of what's going on in the NFL today."
In less than two years, the workshop has been presented to 70,000 young people on campuses throughout the country.
"If all this effort is so one family, one person or somebody out there avoids the tragic outcome or a family doesn't have to go through that pain of losing somebody, it's definitely worth it," Mike said.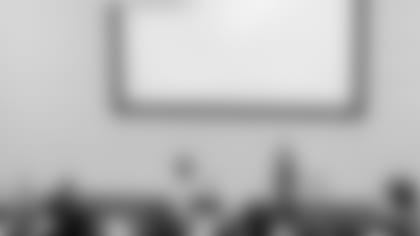 She Would Be ThrilledIt can't happen. It won't happen. It does happen. Statistics tell us there will be more Yeardley Loves and there will be more Janet McAfees. But Katie Hood and Betty Maccagnan are determined to change mindsets early and help people change paths before it's too late.
"I think what a lot of people don't realize is that they think the tragedy can't happen to them," Betty said. "When you have lived through the tragedy, it's real. What you want to make sure is that if it's avoidable, you do anything you can to make sure others avoid the same outcome."
Betty Maccagnan lives in New Jersey now, but she often goes back to Texas in her mind and wonders if things could have been different. She helped put Ken McAfee away, but regrets not having a preemptive plan to help a friend.
"We can empower young men and young women and their peers to oversee each other, have each other's backs and understand the tools that are available for them," she said. "Would it have made a difference for me? Absolutely. It would've given me a lot more permission to act and act more quickly and have more of a plan."
The Escalation film cost approximately $3 million to produce, but One Love needs more funds to create diverse content tailored to different age groups. Betty is driven by a constant reminder, a Texas cowgirl with an oversized personality who loved to travel and survived a bombing attempt in Myanmar and the tsunami in Sri Lanka back in 2004.
"She had a Chihuahua named Tsunami after that. That's how we got to know each other, we both loved dogs and she would take care of my dogs," Betty said of Janet. "She would be absolutely thrilled and I do feel like she's like this little puppeteer up there putting me together with Katie and in some ways, maybe even up here just so that I can have this platform."