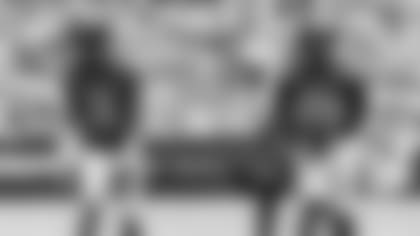 Bob Wischusen has been the radio play-by-play voice of the New York Jets for 18 years. Beginning this week and lasting all season, Bob will share thoughts pertaining to the Green & White in a weekly column - "Wischusen's Point of View".
1. Looking Ahead to Monday Night Football
Here's my main concern coming into the Monday Night Football matchup with the Cleveland Browns, beyond the fact that both teams are coming off of very disappointing home-opener performances where they both lost games that their respective fan bases expected them to win. Putting that aside for a moment, just talking about the X's and O's, the Browns have the capability to be a very dynamic passing offense.. The Jets have a defensive coordinator in Gregg Williams that likes to blitz a lot. If you blitz and you don't get home, that means you are leaving your corners on an island with players like Odell Beckham and Jarvis Landry. So I'll be very curious to see on Monday night how aggressive Gregg Williams is with the blitz. Does he stay with his DNA as a play caller and get after Baker Mayfield, knowing that if you don't get home, you're going to be having one-on-one match ups with some of the most talented wide receivers in the NFL?
2. Finishing Games
There's an old saying in the NFL that although most games have 130 to 140 plays run, the entire game usually comes down to seven to 10 plays. Seven to 10 key moments that determine the outcome. Whether it's a big penalty, whether it's a bomb thrown by a quarterback that's just a shade too far out in front of a wide receiver that could be a touchdown and could change the game, whether it's a missed tackle that results in a big run, whether it's just a blown coverage assignment. About seven to 10 plays in NFL football games determine the outcome, and you hope the Jets learned a very valuable lesson against the Buffalo Bills on Sunday afternoon. That in the second half when those big moments present themselves, you must take advantage. And they must find a way to bounce back Monday night against Cleveland and make sure that if they've got a second half lead, they find a way to finish.
3. What's Next?
The Jets can't listen to any of the noise from outside their locker room. They can't listen to any of the noise coming from the media and the fans, they now have a job to do on Monday night against another conference opponent. They have to find a way to beat the Cleveland Browns and that has to be their only focus. And if you are able to come back from a loss like the one they suffered on Sunday and find a way to beat a team on Monday night, that began the season with Super Bowl aspirations of their own, and you would have to think will also come out desperate for a win considering the way they lost to Tennessee, that would show a lot of character. Myself for one, I can't wait to see how they come out and perform and react to the disappointment that they must have been feeling after the loss to Buffalo. There's also no greater perceived hurdle in the NFL than a team needing to overcome the absence of the starting QB...and that's what the Jets face in this game. But this is why they got Trevor Siemian. He's no rookie. He's started 24 games, he's won 13 of them. There's arguably no team in the NFL that ought to be in better shape in terms of their backup QB. Adversity has struck in a huge way. Let's see if the Jets can deal with it and win a game.