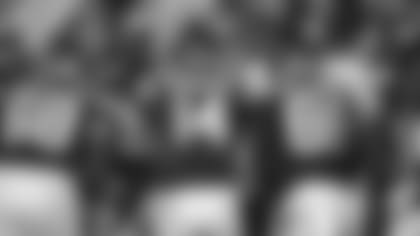 Bob Wischusen has been the radio play-by-play voice of the New York Jets for 18 years. Beginning this week and lasting all season, Bob will share thoughts pertaining to the Green & White in a weekly column - "Wischusen's Point of View".
1. Home Opener
I can't wait to be at MetLife Stadium for this opener on Sunday. Marty Lyons and I have been doing the games for 18 years now and this is a season that I think potentially has about as exciting a start as any other season we can remember. I think Jet fans realize how important this home opener is too because if you look at their schedule, especially early on, you can make an argument that the Jets home opener against the Bills this weekend, is as important as any opener is to any team in the NFL. Week Two, you're playing a Cleveland team that some people think are going to the Super Bowl, and then you're next two games are on the road against two other teams people are picking to go to the Super Bowl in the Eagles and Patriots. So, it is immensely important for the Jets to get a win over the Bills to open up their season, and I think the fan base A: realizes how important this game is, B: is so thirsty for a winner and realizes that there is real potential to this Jets season that they're going to show out in force and it's going to be about as loud as we have heard a home opener in quite some time.
2. Quinnen Williams
Quinnen Williams is going to be a fascinating player for the Jets this season because of the myriad of ways that Gregg Williams can use him. He has a combination of athleticism and to go with his size. He can be used just about anywhere on the defensive line, in any schematic way you want to deploy him. That's one of the biggest reasons why the Jets drafted him. I think Gregg Williams is going to mix his defensive fronts a lot. He's going to use some 3-4, he's going to use some 4-3, he's going to use different guys in different combinations on the defensive line and having a player with the versatility and athletic ability of Quinnen Williams is going to give him a chance to do everything he wants to do with different combinations. So, will he become the next Aaron Donald? Is he going to be a perennial Pro Bowler? Time will tell. Having a player like Quinnen Williams gives Coach Williams massive flexibility that he wouldn't have with a player that didn't have this type of athletic ability to go along with his frame.
3. Le'Veon Bell
I don't think there's any skill position player in the NFL that will have a more positive and significant impact on their respective quarterback than Le'Veon Bell will have on Sam Darnold. I think he is that important to the Jet offense. The idea that we've seen the Jet offense at any point in preseason, is crazy because not having Le'Veon Bell on the field is like saying you're getting a good look at a car without its engine. That's how important he is to what Adam Gase wants to do schematically, and that's how important he will be to Sam Darnold. For a second-year quarterback to have a player of this caliber as a constant safety valve time in and time out, week in and week out will be invaluable. You will see Sam Darnold's completion percentage go up 10, 12 maybe 15%, you will see the wide receivers and tight ends get match-ups and one-on-ones that they may never have gotten before because opposing defensive coordinators are going to have to commit extra bodies to the box to try to stop Le'Veon Bell. You will see a trickledown effect positively for just about every aspect of the Jet offense with a player of this caliber at that position. So, having Le'Veon Bell is going to be immensely important to everything the Jets want to do offensively this year.