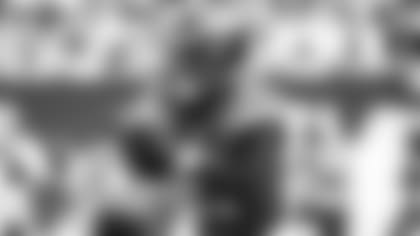 Bob Wischusen has been the radio play-by-play voice of the New York Jets for 18 years. Beginning this week and lasting all season, Bob will share thoughts pertaining to the Green & White in a weekly column - "Wischusen's Point of View".
1. The Jets Defense
They fought against terrible field position all night (Monday Night), knowing they had zero margin for error, knowing that one mistake could completely knock them out of the game and until Odell Beckham creased them for a big play late in the game, the Jet defense did everything they possibly could to keep that game alive and give the Jets offense a chance to get them back in it. As long as Sam Darnold is on the shelf, the Jet defense is going to have to operate with exactly this mentality. It's not going to get any easier. They're going to continue to play with zero margin for error, but if you were looking to see a defense do everything it possibly could to keep a struggling offense and a struggling team in the game, against all odds and play inspired rather than discouraged, that's exactly what you saw from the Jet defense on Monday night, and it's exactly what they're going to have to show their coaches and their fans for the foreseeable future.
2. Facing Adversity
There's no such thing as an injury free team in the National Football League. This is a collision sport being played by men, 250-350 pounds most often, running into each other at high speed. So every team in the NFL is going to go through injury and is going to face adversity. An encouraging sign Monday Night, no matter how poorly the offense performed, the defense came back out on the field and played as hard as they possibly could to maintain some type of field position and keep the game close. No matter how much the offense was struggling, the leaders of the offense, the front guys on the offensive line, Le'Veon Bell in particular, played as hard as possible down in and down out. And that example is going to buoy the younger players on the team when they're looking around and wondering what could possibly go wrong next. They will need that leadership moving forward. They call it "next man up" for a reason, and it's a mantra the Jets are going to have to live by until they get their best players back on the field.
3. Le'Veon Bell
I remember watching Hard Knocks a few weeks ago when John Gruden brought up the example on film of Bell executing blitz pick up. And talking about the fact that he didn't care he was Bell superstar or a player you had never heard of before, this was a spot where a running back was going to execute a job that wouldn't show up in the box score and would probably only be seen by his teammates on film, and yet he leaned into a blitzer, not only hit him, but hit him hard and gave him a shot that you know that player was going to remember and how much that impressed Gruden. And that made me more excited to watch Bell this season play for the Jets. And against the Browns on Monday night, what you saw was the ultimate example time and time again of Bell being that exact player. No matter how difficult the game was, no matter how backed up the Jets were on the field, no matter how much Bell knew he was going to be not only the primary, he took every shot, he fought through every tackle, he battled for every yard and even when the game was out of reach, he was playing the last few plays like the first few plays. His motor, his effort, his determination, his desire never ever falters regardless of the circumstances of the game. And to me, especially when it comes from your highest priced superstar player, that example being set for the rest of the guys on offense is only going to pay dividends. He is the ultimate example setter and he is going to be a credit to this Jets offense regardless of how the rest of the season goes all the way through.