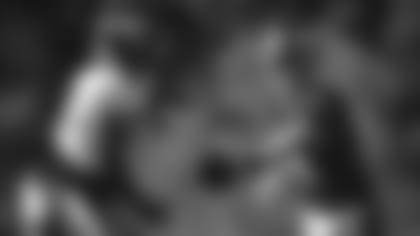 Bob Wischusen has been the radio play-by-play voice of the New York Jets for 18 years. Beginning this week and lasting all season, Bob will share thoughts pertaining to the Green & White in a weekly column - "Wischusen's Point of View".
1. Jets Pass Rush
So far this season, Eagles QB Carson Wentz has not used his legs nearly as much as a weapon as he has in years past. He's run for minimal yardage compared to what he can run for. So, certainly, his mobility outside the pocket to run and make a play on the ground with his legs is always a weapon you must be worried about. Furthermore, his ability when he gets outside the pocket to make a play through the air just by extending the play is every bit as damaging. All of that can become even more dangerous if your pass rush can't: A. Pressure Wentz, but also, B. Be disciplined while you do it to keep him in the pocket to make sure that there aren't voids in your pass rush where he can not only get out and run, but get out the gate, keep a play alive and free up someone in the pass game to get loose to also make a big play. If your linebackers and safeties have to come off their coverage because Wentz gets loose and still stays behind the line of scrimmage and has the ability to throw the ball, that can be very dangerous as well. So, the Jets' pass rush this week not only has to be effective, but also must be disciplined keeping Wentz in the pocket and maybe limiting his play-making ability as a result.
2. Jets Bye Week
A big topic last week was the Jets' bye week arriving so early in the schedule and how with Sam Darnold's illness, with injuries to seven other starters, it turned out to be a blessing in disguise that the bye week returned to the Jets as early as it did this season. Remember, we pay attention to the National Football League during the regular season, during the 17 weeks where the games count, but the players are living this world on an everyday basis starting at the beginning of training camp. The Jets have been on the practice field preparing for and playing games, since the last full week of July. So, in our world, the bye week came only three weeks into the regular season. In their world, they had been together daily practicing and playing for 10 weeks. So, there is at any point in the season when the bye week comes along, a very welcomed mental rest, a chance to get away from football for a few days, even for the players who are 100% healthy. After an 0-3 start, this was a team that needed a chance to self-scout what went wrong in those first three games, make the corrections and maybe get a little mental break away from what they've been living for the last 10 weeks.
3. Sam Darnold Returning the Practice
We all know the most important position in all of football is the quarterback, and we all know that when you have a franchise quarterback, your hopes, dreams and aspirations for a playoff season are usually tied to that player. The Jets are certainly no exception. Everyone in New York has been talking about Sam Darnold as the heir apparent in the Jets' history to Joe Namath, that they have finally, for the first time in 50 years, found their long-term solution at quarterback. The players hear that all the time. They understand his importance to the team. So, when he's gone and there's no sign of his imminent return, there must be natural doubt among those players about the future of their season. But with so much football still out in front of the Jets, to see Darnold back on the practice field this week, out there with his teammates, throwing a football, operating the offense, doing what he's trained to do and what their entire offensive operation is built around has to buoy the hopes of his teammates that his return is imminent and that means their season still has a future. So, if I were a member of this Jets team and I saw Sam Darnold back on the practice field this week, it would certainly build my spirits up to a completely different level. Having said that, they all know that their hopes for success this season are based on when he actually gets back on the field and playing in games.