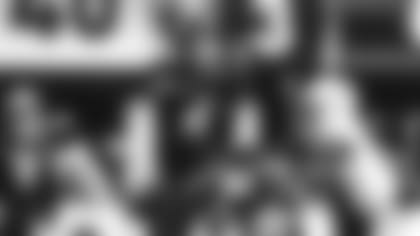 Bob Wischusen has been the radio play-by-play voice of the New York Jets for 18 years. Beginning this week and lasting all season, Bob will share thoughts pertaining to the Green & White in a weekly column - "Wischusen's Point of View".
1. The Last Quarter of the Season
There is absolutely something to be said for learning how to win. Sometimes you are not at your best. Injuries become so overwhelming you almost don't know who the next guy is that's going to have to go in. You are first to play extremely inexperienced players. You're playing guys out of position because you literally have no one left on the roster and yet your defense somehow keeps on finding a way to get stops, holding to field goals and you find a way to win. And maybe most importantly for a young quarterback not having his best game, realizing he's got one more chance with the football, one more opportunity to drive it, kick a field goal and find a way to win. Even if the Jets aren't a playoff team this season, it doesn't mean that that's not an experience that Sam Darnold. When he's put back in that position again, in a game that matters a whole lot more than the Dolphins game did, when maybe a playoff berth is on the line, when maybe a division title is on the line, when maybe a playoff game itself is on the line, he will look back knowing I've done this before and I can do it again and there is tremendous value in that.
2. Next Man Up Philosophy
Next man up, that must be a phrase that Gregg Williams sees in his dreams or better put, quite possibly his nightmares. Going back to the start of the season, if you looked at the Jets' 22 projected starters on offense and defense, the only two on offense that have been available for every game this season are Robby Anderson and Jamison Crowder. The only player on defense that has been available for every game this season for Gregg Williams has been Marcus Maye. He has had to patch together a team every week using backups and backup's backups and sometimes the backups, to the backups, to the backups. He has gone four deep in the secondary, and no one is more emblematic of that than Bless Austin, who a few years ago at Rutgers, dealing with torn ACLs, probably thought his football career might be over. And yet here he is, starting in the NFL for his hometown team and a team that desperately needs him to play well and he has become emblematic of that next man up theory. Credit Williams, credit Austin and credit all these replacement players the Jets have had to go to this season for constantly finding answers, constantly staying competitive and the win over the Dolphins was a perfect example of that. They bent, but they never broke. All they did was hold the Dolphins to field goals, they gave their offense a chance to win and eventually the offense came through. This defense has somehow just kept finding ways to stay competitive.
3. Thursday Night Football
Thursday night against the Ravens is fascinating on many different levels for the Jets. The most obvious jumping off point is that the Jets defense, with all their injuries, even after the trade of Leonard Williams, they've still managed to stay at the top of the league against the run. Somehow, someway, their run defense has never faltered. This is the ultimate test because not only is Lamar Jackson a freakish challenge on to himself, but add in the Ravens offensive line, Mark Ingram, all of their three tight end personnel packages, they all add to the attack and they probably run the closest thing you're going to see in the NFL to the triple option, which is impossible for teams to simulate and practice against. We'll see how they handle it. What's also interesting is the pressure this puts on the Jets offense, they'll want to stay on the field, they'll want to control time of possession, they'll want to make sure that not only are they scoring points but they are taking time off the clock while they do it, to make sure that Jackson and the Ravens' offense doesn't get into a rhythm. This is the ultimate test of complimentary football to see if they can stay in this game and try to find a way to steal it. It might be the biggest challenge they face all season.