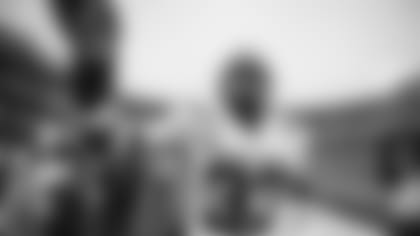 Bob Wischusen has been the radio play-by-play voice of the New York Jets for 18 years. Beginning this week and lasting all season, Bob will share thoughts pertaining to the Green & White in a weekly column - "Wischusen's Point of View".
1. Jamal Adams' Impact at Multiple Levels
The play making ability that Jamal Adams has shown over the past several weeks is wonderful for the Jets on so many different levels. Starting with Adams individually, it shows a return on his investment. This is obviously a player that spends an inordinate amount of time preparing mentally and physically to perform at this level. When he's in the film room, when he's in the meeting room, when he's at practice, he's analyzing places against an opposing offense that he knows he can exploit. And to see that return on his investment, not only is tremendously satisfying but it also shows the Jets and Gregg Williams that he can impact the game from the safety position. But from a wider-angle lens standpoint, it also shows that the Jets have tremendous confidence in players like Arthur Maulet and like Bless Austin, relative newcomers to their defense. They're willing to take those guys and leave them in some man-to-man coverage situations and allow a safety to go play near the line of scrimmage in the tackle box to make those wreck the game type plays. Not only is Adams displaying his own talent, but it's also showing that there are some players the Jets have on defense right now who might have a future with this team because their ability is freeing Adams up to go up to the line of scrimmage and be Jamal Adams.
2. "Learning How to Win"
The old cliché in football, a team "learning how to win," is treated sometimes like a cliché, like coach speak. Like one of those things we say or hear in press conferences that's just something to say, just some words that coaches will fall back on. But there's absolutely truth to that saying, a young team especially, learning how to win. Winning these last two games for the Jets is showing the locker room that there's a reason for them to go out on a Sunday and believe they can get the job done. And it's easy to point to the opponent and say, "Well they beat teams that are well below 500, what does this really prove?" But to an athlete that's investing hundreds of hours during a season getting ready to play these games, and coaching staffs that are literally spending thousands of hours preparing for these games, to see a return on your investment takes you to a mental place that I'm not sure is calculable to the average fan. So, learning how to win, is 100 percent something that a team with young players especially can build on as a foundation moving forward. As we look down the stretch of this season and see the number of games the Jets still have on their schedule, that they are capable of winning, getting to as many wins as possible can do nothing but help them for the players that will still be on this team next year.
3. Using Multiple Running Backs
There is no position in football, perhaps no position in all of sports, that has the expiration date on it that running back has in the National Football League. We see it time and time again. While other veteran players at quarterback, receiver, offensive line, so on and so forth, can produce at a high level seven, eight, nine, 10 years into their careers. Running backs seem to hit that seven- or eight-year wall and then have a big fall off in terms of production. The Jets invested a lot of money into Le'Veon Bell and they want him here for years to come, but they want a productive player here for years to come. So, finding alternatives to give the ball to like Bilal Powell, and even Josh Adams, is exponentially more valuable than a substitute player at almost every other position because you know there's only so much tread on the tire for Bell. When you're also able to work in multiple running backs, it means you're sustaining drives, it means you're accumulating the number of plays offensively that going into the game you hope to accumulate. It's no accident that in the last two games that the Jet backup running backs have played a larger role and they've scored 34 points in each of those two games. So, getting the ball to Powell, getting the ball to Adams, not only is a good sign just in terms of your offensive production, but it absolutely will lengthen the career for a player like Bell and that's nothing but a good thing for the Jets.