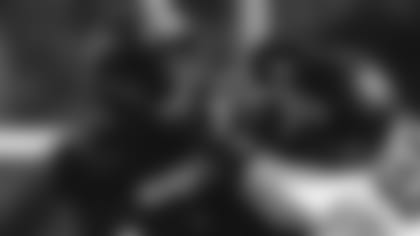 It would seem you couldn't ask for two more gentle men to fill the guard positions on your offensive line than Kelechi Osemele and Brian Winters.
Osemele, who arrived via trade from Oakland this offseason, has the warm smile and well-modulated speaking voice of a DJ or radio talk show host. "When you talk to him," said head coach Adam Gase, "you're kind of like, 'Wow, that's a really nice guy.' "
And Winters, one of the longest tenured Jets on this year's training camp roster, has a new soft spot in his heart for his just-born son, Nash.
"It's a blessing, it's exciting, but it's rough," he said with a tired daddy's smile after Monday's practice, adding, "Just the love that you have for someone, I never thought it could be so high, you know?"
But put those two guys on either side of center Jonotthan Harrison, blow the whistle and watch out. We'll let Gase describe the mayhem, starting with Osemele, whom he encountered when his Dolphins met the Raiders in 2018.
"Going against him last year, I noticed him because of the physicality he played with. He plays all the way through the whistle, sometimes a little past it — he got one of our guys ejected last year," the coach said. "When he gets between the white lines, he's a different guy. He's violent, he's physical, he brings attitude.
"I think he and Brian, I don't know if I've been around two guards that have that kind of mentality where they're looking to be violent, aggressive coming off the ball, and really stroking defensive tackles when they get the opportunity."
Needless to say, playing guard is about more than just getting physical. Left guard Osemele said one important part of his job, syncing up with Harrison, has been going well this first week of camp.
"We've got good chemistry," he said. "We're talking to each other, spending a lot of time together. That's a good thing about training camp, the camaraderie, getting to know each other. And I'm starting to learn more about what we want on double teams and combos, things like that."
And Winters, healthy in coming off the first 16-start season of his six seasons as the Jets' right guard, said jelling on the line isn't quite the same process when veterans are in the mix, such as the Jets with eighth-year LT Kelvin Beachum and fourth-year RT Brandon Shell on the starting unit.
"Kelechi's played a lot of ball and he knows how to mesh with a lot of people," Winters said. "It's different if you have a young group that doesn't have as many reps or as many games under their belts. But we all come here and we know it's a job, we know what we've got to do, and we work together."
Whether that's as a five-man unit or a tag team.