On Tuesday night, Willie Colon presented Cardinal Hayes High School with a commemorative golden football in celebration of the Super Bowl's golden anniversary. Approximately 2,000 high schools in 48 states and eight countries will be presented with such footballs by players and coaches that has been a part of a Super Bowl team.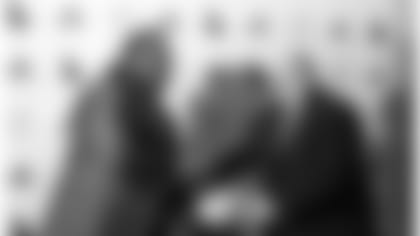 "Nobody was doing this while I was here. There was nobody coming back," the Bronx native said from the hallway of his alma mater. "There were no faces for us to say, 'Hey that's the guy that's doing it right.' And right now, especially for young men especially in the inner city here, there aren't a lot of great examples."
The golden football represents the direct relationship between the communities and schools that have helped shape elite-level players and coaches. In addition to the football, Cardinal Hayes will be eligible to apply for grants of up to $5,000 to support their football program. Colon presented the football to his former position coach, C J O'Neil.
"Willie has been a source of pride for us for a long time," O'Neil said. "You know you tell the kids, it's a blind faith and work. You got to put in work and you don't see results right away and when you have a Willie Colon that comes back … it kind of reaffirms everything."
And it was Coach O'Neil's vested interest in Colon that helped shape his future.
"When I was messing up in class, he was the first person to grab me by the neck and straighten me out … He was a person who allowed me to be me," Colon said of O'Neil, now in his 13th year as head coach at Cardinal Hayes.
Colon credits his achievements – A Super Bowl championship, a decade of professional football with the Jets and the Steelers and a budding sports broadcasting career – to the support he received from a cast of people growing up.
"I try to be somebody that they can point at and say, 'Hey, if Willie can do it, I can do it,'" he said while taking the time to pose for every picture, sign every autographs and speak to every young man that approached him, undoubtedly hoping, to one day be in his shoes.