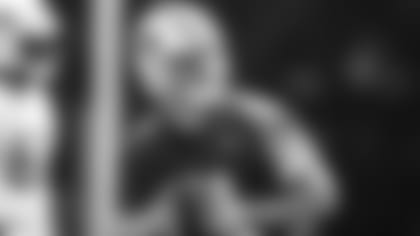 A rookie's adjustment to the NFL has drawn comparisons to the likes of drinking water through a firehose — information gushes at you and you have to take in as much as you can.
According to former Jets offensive lineman Willie Colon, No. 3 overall selection Sam Darnold's first task should be getting comfortable in his own shoes while learning the verbiage and cadence of his new offense.
"Jeremy Bates will probably do a good job of trying to customize some things for him so he can get going a lot faster, but the speed of the game is a lot different," Colon said on The Official Jets Podcast. "The demand in the huddle is different because he's going to have to be able to communicate and be relatable. He's going to have to look a lot of guys in the eye and win their respect. That's not through words, that's by how he goes about his business and how detailed he is on the field."
Colon believes earning the respect of the locker room is a process that takes time, especially if you're under the legal drinking age like Darnold, who turns 21 next week. Per Colon, the process can be expedited from a combination of the USC product's play on the field, how he goes about his business off the field and perhaps an occasional steak dinner or cigar for the offensive linemen.
"Guys are willing to go through walls for another guy if he's honest about what he wants in what he's doing," Colon said. "They'll respect a guy a lot more if he's telling it like it is and not giving the company lines or pointing the finger. That's the biggest thing that happens at any position. If you're a young guy going into the league, you judge a guy by his character. Is he telling the truth? Is he pointing the finger at the next guy or is he pointing it at himself? That's what makes Josh McCown so great."
Luckily for Darnold, he's going to receive the tutelage of McCown, who's entering his 16th NFL season and his second with the Green & White. Jordan Palmer, who trained Darnold leading up the draft, said if he could draft a veteran quarterback to help a high-pick rookie McCown would be his first selection.
"From my understanding, Sam has a quiet demeanor — a lunch pail guy who comes in and goes to work," Colon said. "I think Josh has that same attitude, but I think Josh also understands he has to understand these guys and know his receivers. Sometimes that can be done off the field and sometimes it can be a casual conversation during breakfast, getting to know people.
"Each guy, you're going to have to lean on in some type of way during the season. If you have an open line of communication and they feel like they know you and you know them, guys will really stand up and go to war with you."
Colon compared the McCown-Darnold relationship to Mickey Goldmill and Rocky Balboa — trainer and fighter. While Jets head coach Todd Bowles said McCown is his current starter, McCown embraces the mentor role. After the team selected Darnold in April, the 38-year-old McCown said the best thing he can do is help mold Darnold into a future Pro Bowler.
"Mick has to get Rocky ready for the big fight and they're going to have to be joined at the hip," Colon said. "When the bell rings, Rock just has to perform. Josh knows that, Josh knows why he's there and I think it's good for those two to start on the right foot. From what I hear, they're doing well together."