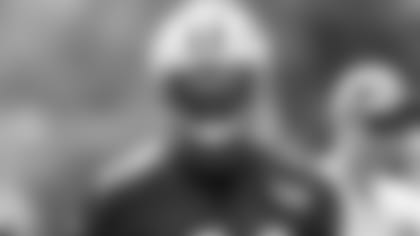 Avery Williamson has always been a Middle America kind of guy. He was born in Cleveland and raised in Milan, TN, played his college football at the University of Kentucky and his pro ball in Nashville.
So when unrestricted free agency beckoned this year and the middle linebacker signed with the Jets, he said his family had some concerns.
"My parents were nervous about me moving away," he said with a smile. "This is the furthest I've been from home."
But Williamson isn't nervous at all. He seems genuinely thrilled with his new home and his new employer.
"The support I've gotten so far, not just from the coaches but all the staff, I feel like it's really good," he said. "I just got a great feeling when I walked in the building, like that's the way it's supposed to feel. I definitely feel like it was a great decision to come here."
The feeling is mutual. After David Harris was released in early 2017 and Demario Davis departed as a UFA this year, they needed a forceful MLB, and Williamson's body of work with the Titans was intriguing. He's a 100-tackles-a-year player (298 the past three years), has spent some time in opponents' backfields (career totals of 11.5 sacks, 21 QB hits and 33 tackles for loss/no gain), and he's always available (one missed game in four years, one non-start in three).
Williamson, just a tad smaller at 6'1" and 246 pounds than Harris (6'2", 250) and Davis (6'2", 248), is respectful of the Jets' line of succession at his position.
"Those are definitely some great shoes [to fill]," he said. "Double-D and David Harris have done a phenomenal job, so I'm definitely looking forward to carrying on the tradition of having a solid middle linebacker for the Jets."
More important than comparisons to past players, though, is how it's working out with the current players. He's said his meshing with fellow inside 'backer Darron Lee is going well, as is his assimilation into head coach Todd Bowles' and coordinator Kacy Rodgers' scheme.
"I feel like I fit right in," he said. "Coach Kacy explained how he wants his defense to be, and I'm excited about it. We've still got some bugs to work out, make sure we're always on the same page, but I feel as a group it's really coming along well."
That's the kind of guy Williamson is: humble on a personal level but bullish on his new home and his new unit's chances for success in the coming season.
"We should be flowing very fast when we come back, flying through it like a hot knife through butter," he said, adding about the defense's potential, "With the new additions we brought in, I feel like we could do some great things. I'm not going to put a limit on it, man, but I feel like we can do some great things in this league, and we've got the guys in this locker room to do it."
Best Images of the Jets On the Field in Florham Park