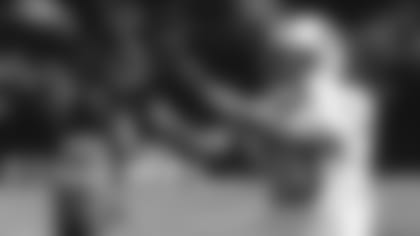 As the Jets inch closer to their home opener Sunday against the Dolphins, they could receive a boost to the offense as wide receiver Jermaine Kearse fully participated in practice all week. Kearse, who is dealing with an abdomen injury, was a Week 1 inactive.
"I'm just going to try to contribute the best way that I can," Kearse said. "Just looking forward to going out there and contributing, trying to add on and grow from last week and try to build on that and be consistent in getting wins."
On the other side of the coin, the Green & White could be without safety Marcus Maye for a second contest as he's listed as doubtful (foot) and did not practice all week. However, head coach Todd Bowles said Maye is running better and the Jets will wait until Sunday morning to make a final decision. Assuming Maye doesn't suit up Sunday, Doug Middleton, who played all 70 defensive snaps against the Lions, should receive a significant amount of playing time again.
"Really watching Doug, I thought he stepped in and did some good things," defensive coordinator Kacy Rodgers said. "I'm sure it's something he would like to improve on. Overall, I thought he stepped in and did an admirable job."
OLB Josh Martin has been ruled of Sunday's game and remains in concussion protocol.
Building Blocks
Cornerback Morris Claiborne expects a "packed house" at MetLife Stadium Sunday and believes the defense will feed off the crowd's energy. After Monday's performance, Claiborne said the secondary is starting to glue after the unit registered three picks, but they're ready to turn the page and look ahead.
"We're very excited. We're excited to go out in front of our home crowd and do better than we played last week," he said. "Our mission this week is to step it up. I know a lot of people keep saying how a team can get stuck on being in the past and stuff like that, but I know my feeling and the guys in my DBs room, our feeling is we're not taking this game as something that we're going to be stuck on. We're trying to be better than that game."
Bookend Pass Rushers
After lining up against Lions DE Ziggy Ansah, the Jets have another tall task this weekend in blocking Dolphins edge rushers Cameron Wake and Robert Quinn. Offensive coordinator Jeremy Bates touted the duo for their quickness off the ball and added his linemen understand the challenge ahead.
"They're a big slant team, a big motion team, which is a little different than what we originally faced in Detroit," starting right guard Brian Winters said. "It should be a whole different type of defensive scheme."