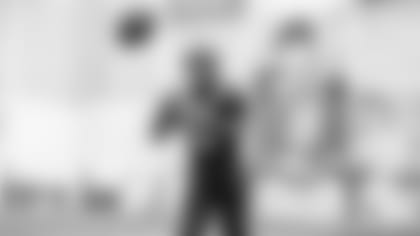 After returning to practice on a limited basis this week, Jets safety Marcus Maye was officially listed as questionable for Sunday's contest against the Jaguars.
Maye, who gave his ankle/foot injury a test run in Week 3 of the preseason, said he suffered the injury a while back and he subsequently missed the team's first three games. While the Florida product will get final word from Coach Bowles and the training staff Sunday morning, he said it's been frustrating watching the team from the sideline.
"There were a few plays out there that I felt like the guys could've made, but it's a team effort," he said earlier this week. "Once I get back out there, I'm going to try to step in and do the best I can."
The Jets could also get a boost at outside linebacker as Josh Martin may be active after clearing concussion protocol. Martin, who led the Jets with 12 tackles for loss in 2017 and finished second with 20 quarterback hits, suffered a concussion in Week 3 of the preseason.
"It's one of those things where I popped right up and continued playing in the game," Martin said. "Someone noticed something was wrong, so I went and got it checked out. I was being super cautious and listening to my body and trying to be smart about it."
The sixth-year veteran said he's not out of shape although he admitted running gassers is a little different than game speed. Martin is excited to take advantage of his fresh legs and contribute to a unit that has been a "consistent force" through three weeks.
"I'm happy to be out there with those guys," he said. "They're making a difference, they're making plays. I want to be a part of that, so I'm excited for that."
Familiar Foe
A former Titan, linebacker Avery Williamson is no stranger to the Jaguars. Williamson said he watched film on his former club as part of his studying this week as the Titans took down the Jaguars 9-6 in Week 3.
"They played physical up front and did a good job handling the run," he said. "They didn't score any touchdowns. They made the game tough, so being physical up front is what we have to do."
The 6'1", 246-pounder said the Jets allowed too many rushing yards to the Browns in Week 3 (133) and have to be gap sound whether or not Jags running back Leonard Fournette (hamstring) plays. Williamson tied a career-high against Cleveland with 14 tackles and he also added 1.5 sacks.
"They still run the ball with him out, but they're going to get the ball in two-seven's hands," Williamson said. "He's a good back, so we have to make sure we're being physical with him and continue to emphasize tackling and wrapping up and gang tackling."
New Cast
Jacksonville's offensive weapons are different than when these teams last met in Week 4 of last season. Keelan Cole leads the Jaguars in both receptions (15) and yards (210), but Blake Bortles often turns to former Jets tight end Austin Seferian-Jenkins on third down.
"It was kind of surprising when we had our third-down report meeting," said defensive coordinator Kacy Rodgers. "In certain areas he's the leading target guy, so very similar to the way we used him, if not maybe accenting him more in a lot of ways, especially in the red zone. He's a big red zone target for them as well."
Homecoming
Sunday marks somewhat of a homecoming for kicker Jason Myers, who spent 2015-17 with the Jaguars. Myers said he's excited to return to TIAA Bank Field even though he admitted it'll be a little weird being on the visitor sideline. The Marist product has yet to miss a field goal as a member of the Green & White (5-of-5) and being familiar with the Jags' grass field should help him Sunday.
"The Florida grass is shorter and kind of grainier," he said. "ou have to stay hydrated. It's warm, so your body stays warm and the ball flies. It'll be fun."
Friday's Best Snapshots from the Practice Field at 1 Jets Drive