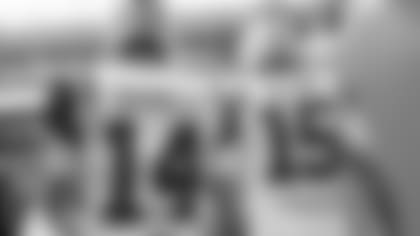 The Jets can rest assured knowing who their starting quarterback will be for the foreseeable future and quite possibly the next 10-15 years. As team executives set forth on their head coaching search, they have a great selling point in Sam Darnold. And as that happens, Darnold's backup will contemplate his next move and whether his playing days are over.
"I think everything for me is on the table right now," Josh McCown told reporters on New Year's Eve. "I'll sit with my family, we'll talk through it, we'll pray through it and we'll come to the best conclusion we can and what we feel like is best for our family."
The 39-year-old McCown was the Jets Curtis Martin Team MVP in 2018, but one could make the argument that he was even more valuable in his second season with the Green & White. After the Jets made Darnold the No. 3 overall selection in last April's draft, the rookie rarely took a step without McCown by his side.
"There is nothing like playing, but when you can share your experience and give it to somebody else on their journey, I think that has value beyond cost," McCown said. "I'll always appreciate that time."
After signing with the Jets in 2017, McCown beat out Christian Hackenberg and Bryce Petty for the starting job and went on to have a career year while setting season career-highs with 2,926 yards passing and 18 pass touchdowns. His 67.3 completion percentage ranked third in the NFL when he broke his hand in Week 13. He also had a personal best five touchdowns on the ground, tying for first among quarterbacks when he was placed on injured reserve in December.
"Oh man, shoot it's been great. In both respects, last year playing and being able to play some of my best football, and just had the time of my life," McCown said in reference to his first season with his 10th NFL team. "Obviously wish we could have won more games, but just had a great time on that end. And this year, kind of in a different role, working to help this team grow, specifically with Sam. Joining those coaches to get the most out of him. I think in some respects for me, as I look back on it, equally as fun."
McCown, who started three games for the Green & White this season when Darnold was out of the lineup with a strained right foot, will turn 40 on July 4th. He has four children and his eldest daughter, Bridget, memorably texted her father a reminder that Darnold was less than a year older than her after the Jets took the USC product in the draft.
"I'm looking forward to getting back down to Charlotte and getting around them, spending time with them, watching my boys play basketball and getting to spend time with my girls," McCown said of his offseason plans. "So we'll see, but no I haven't closed any doors on anything."
McCown, who grew up in Texas and has been a professional vagabond since entering the league as third-round pick of Arizona in 2002, didn't know what to expect prior to signing with New York's AFC representative. But he quickly assimilated and flourished on the field and became a favorite inside the building.
"Being here from an outsider's perspective, coming into this market and understanding it's a big place, but you get in this locker room and get with these guys and it's special," McCown said. "And you guys aren't quite as bad as everyone makes you out to be, so it's been great. I've enjoyed my time and I'm very, very thankful to be here."
In 16 NFL seasons, the 6'4", 218-pound McCown has completed 60.2% of his passes for 17,707 yards with 98 touchdowns and 82 interceptions. He remains one of the most respected and well-liked men in the NFL, a consummate professional who cares about the betterment of his teammates. McCown played well for the Jets and then he became a mentor and friend to someone who has the potential to take this franchise to heights it hasn't experienced in a long, long time. And when decision time comes, he'll be at comfort knowing he always gave everything he had.
"I think it's good to just get away, take a deep breath, and like I said talk to it with my family, pray through it, and try to make the best decision we can for us," McCown said. "That'll be the key. But whatever the case is, I feel good. I know that we'll come to a good decision and feel good about it moving forward."