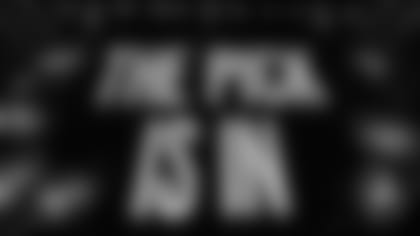 The Jets have four picks in the top 79 and eight total selections in the 2020 NFL Draft. General manager Joe Douglas, if he wants in his first draft as Jets GM, has the ammunition to move up, but with strong depth in the middle rounds, he could also trade back to stockpile more picks and keep filling holes.
Each side of the coin has its benefit, but are the Jets more likely to trade up or back?
"I think if you see the Jets move around in this draft, they're going to move back," NFL Network's Daniel Jeramiah said. "Joe is very confident in his evaluating ability, he's confident in the group that he's assembled around him led by guys like Phil Savage and Rex Hogan — these guys are outstanding. To have confidence there in a draft that's good in those middle rounds, I think you're trying to add to that number and not subtract from it.
"There are still a lot of holes in this roster. This year, the two third-round picks, those are too valuable to part with in my opinion."
Jeremiah sees one scenario where the Jets could potentially trade up — if their top-rated tackle is still on the board when the JaLoveguars are on the clock at No. 9 overall. The Jets, in this hypothetical situation, would leapfrog the Browns, who many draft pundits project are still in the market for a tackle despite adding Jack Conklin in free agency.
Jeremiah also believes there's a possibility three or four of the "Big Four" tackles — Mekhi Becton, Andrew Thomas, Jedrick Wills and Tristan Wirfs — could be off the board by No. 11. If that's the case, the Green & White could have their pick of the litter at WR. While they could give QB Sam Darnold one of the top weapons like CeeDee Lamb, Jerry Jeudy or Henry Ruggs III, it may behoove the Jets to slide back a few spots while adding extra mid-round capital.
"I think especially if the top tackles go, you can make the case to trade back because if you're going to go receiver, there are so many good options there," Jeremiah said. "If somebody else has someone they're particularly in love with and they'll give you a nice price, perhaps like Denver that's picking 15, where you wouldn't have to slide back too far. The Raiders picking right behind the Jets, a team that looks like they're in the wide receiver market, could be one of those deals where you get a little something to slide back one spot."
Whether the Jets decide to move up, trade back or stay put, Jeremiah believes Douglas' goal for the draft is clear.
"It goes back to the theme that Joe knows he has to protect Sam Darnold," he said. "This team is going to go as far as Sam Darnold can take this team. That to me is the No. 1 priority and if there's a tackle you feel good about, you don't trade that pick."