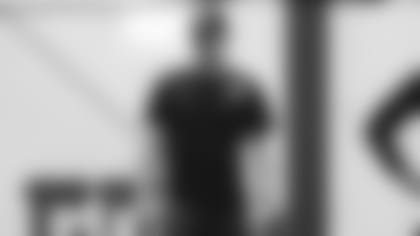 Since general manager Mike Maccagnan told the media that building around second-year quarterback Sam Darnold was a primary offseason focus, the Jets have added one key piece to every level of the offense — left guard Kelechi Osemele, wide receiver Jamison Crowder and running back Le'Veon Bell.
"We're going to go out there and try to win every single game this year," Darnold told newyorkjets.com's Eric Allen at the team's new uniform unveiling at Gotham Hall last week. "We have that potential with the guys that we have, the coaching staff that we have. I'm very excited about this team."
When Bell signed with the Green & White, he said he planned to become Darnold's security blanket. While offseason workouts began Monday, the two have yet to line up on a football field together and the USC product is already describing his new weapon as "quarterback friendly."
"Just watching Big Ben (Steelers QB Ben Roethlisberger) and him a couple years ago, I feel like Big Ben was going through his first progression, his second and third and then he gets closed in the pocket a little bit," Darnold said. "Guys are coming after him and all of a sudden he just finds Le'Veon because Le'Veon is there in a friendly spot, numbers to the quarterback. And he's able to catch the ball and turn it upfield and get a lot of yards after the catch."
According to Pro Football Focus, Bell recorded 86 receptions for 597 yards behind the line of scrimmage from 2016-17 for an average of 6.9 yds/catch. But the 22-year-old Darnold may have another security blanket in Crowder.
In 47 games (21 starts) from 2015-17, the 5'9", 177-pound slot receiver was targeted 280 times and caught 192 passes for 2,240 yards and 12 touchdowns with Kirk Cousins under center. Crowder along with Quincy Enunwa, Robby Anderson and tight end Chris Herndon make for a nice corps that can provide Darnold with multiple options.
"It's going to be really fun to play with these guys and kind of get a feel throughout OTAs and training camp how we're going to do things," Darnold said. "I'm really excited about where we're going and I also think our offensive line is going to be really good with the addition of KO and some of the other guys we have."
You could sense that the 2018 No. 3 overall pick is itching to start Year 2 with his new arsenal. All of the players who went to the uniform unveil believe there's a feeling surrounding the organization of starting new from the jerseys, players and coaching staff led by Adam Gase.
"Players love him and I think right away our guys are going to notice he's so passionate about the game, it's going to be hard to go out there and not have that passion," Darnold said. "Same with Gregg Williams on the defensive side. I think the guys are going to love him (Gase) right away and I think we're going to take that passion that he has and form around that and create a really good team around that."