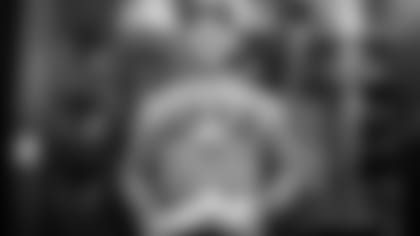 Like most Brazilian natives, Jets kicker Cairo Santos is excited for the World Cup. But his connection to the national team through star player Neymar is unique.
"A couple years ago I got the chance to visit Neymar's institute," Santos said. "He's got a school that he helped build in his hometown in Brazil and I went to visit the kids and help introduce American football to the kids there. It's an amazing institute. He ended up inviting me to his auction to help raise money for the institute.
"Even though he's younger than me by about a year, he's somebody that I look up to in regard to all the success he's had. When he's around Brazil, his family and what he fights for in his institute, he's just a humble kid that he was when he was coming up through poverty. He never forgot his humble beginnings and that's what I admire about him. He's someone that a lot of kids will be wearing their No. 10 jersey because he's an idol right now."
The 26-year-old Santos, whose favorite Brazilian player of all time is Ronaldinho, is hopeful that Brazil will be the last team standing come mid-July.
"They have the better odds and it's one of the strongest teams since I've been alive," he said. "I remember 2002 when we won. It's been too long and I can't wait to hopefully lift that trophy."
Santos hasn't fully digested the brackets, but believes Brazil's biggest threats to host the trophy will be France, Spain and Germany. In fact, he thinks three of those teams will play in the semifinal on July 10-11. Santos also picked Belgium and England as potential dark horse candidates.
"I think they're strong teams with great players that compose that team," he said. "They haven't done as well as the other nations and haven't won in a long time, but they've got the talent to make something happen."
Santos first started playing soccer at 5 years old before moving to St. Augustine, FL at 15 as part of a student exchange program. Despite picking up football, Santos continued to play soccer as Jacksonville University and Gardner-Webb University offered him scholarships. However, he elected to join Tulane football under scholarship and play intramural soccer during his four years in New Orleans.
Growing up in both Brazil and the United States, Santos compared the World Cup to the Super Bowl, but "times ten."
"It's basically like a month-long holiday," he said. "When Brazil is playing, no businesses are open, people don't go to work. They celebrate with their families and get to the closest restaurant, bar or friend's house for a barbeque to watch Brazil play. It's a month-long holiday party and you see the streets painted in Brazil's colors."
While the celebration will be taking place roughly 4,700 miles away from New York, Santos has plans to make him feel like he's in the streets of his hometown Brasilia, the capital of São Paulo.
"I've gotten to explore New York a little bit and I found this Brazilian restaurant in Manhattan," he said. "I already reserved a table for six other Brazilian friends that I've made here in the last two months. We're going to go there, eat some good Brazilian food and watch the games there. I'm so excited. It's going to be like I'm back in Brazil."
*Brazil first played on Sunday (6/17) and played to a 1-1 draw with Switzerland. Their next match is Friday (6/22) at 8:00AM against Costa Rica.*