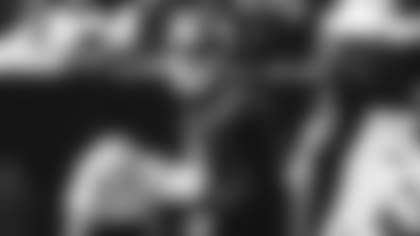 Throughout free agency, Jets GM Joe Douglas stayed true to his plan. With multiple needs, he attacked certain positions and prioritized both depth and flexibility. NFL Network's Daniel Jeremiah, who worked alongside Douglas as a scout with the Baltimore Ravens, saw both the short-term goals and long-term vision at play this spring.
"He had a plan in talking with him prior to free agency," Jeremiah said of Douglas. "He had it mapped out of what he wanted to do and what he wanted to get accomplished. He wasn't going to come out there firing in that first wave. They were going to have numbers and stay within that budget. The good thing, the exciting thing for Jets fans out there is that this team right now has filled holes, they can take the best available player at No. 11. That's the first thing."
In an effort to provide better protection of QB Sam Darnold, Douglas agreed to deals with five offensive linemen including C/G Connor McGovern and T George Fant. Hours after playmaker Robby Anderson jetted for Carolina, Douglas countered with the addition of another speedster in former Buccaneers wideout Breshad Perriman. On the defensive side of the ball, he re-signed a pair of valuable starters in OLB/DE Jordan Jenkins and nickel CB Brian Poole. He swept in to get a boundary CB with more starting experience than any cornerback on his roster when Pierre Desir (36 starts) was released by the Colts.
Douglas handed out a lot of one-year deals and remained firm once he set a value on a player. He also stressed versatility in the new Jets. In the case of the offensive line, each of the
five who reached deals can play multiple positions. The Jets first-year GM stressed culture along the way with the desire to fill his roster with tough guys who love the game and will fit inside the locker room.
While OverTheCap.com indicates the Jets are currently more than $18 million under the 2020 cap, the site has the Green & White close to $74 million under the 2021 cap. But there will be plenty of ways to maneuver between now and next spring.
"The second thing is when you forecast into the future, we have this year coming up, but once you get to 2021 and that free-agent class, there is tremendous flexibility and opportunity for the Jets to make a big push in the next offseason with free agency the way this is set up with the one-year contracts and other contracts they're going to able to get out from under," Jeremiah said. "There's going to be a lot of freedom and liberty there to make a big push."
By being prudent, Douglas stayed away from any splash moves and didn't pay above market value for his assets. In less than two weeks, he will navigate his first draft as general manager of the Jets. The Jets own eight selections with single picks in Rounds 1, 2, 4 and 5 and a pair in both Rounds 3 and 6. Douglas holds the No. 11 overall selection and four picks in the top 80 as the offseason reaches another phase.
"I think next year you're going to see this thing really take off with some of the people they're going to be able to add," Jeremiah said. "To me, this offseason was going to be about the draft first and foremost, and free agency was going to supplement what they do in the draft. The key additions to the Jets this offseason have yet to come — they're coming here in a couple weeks."