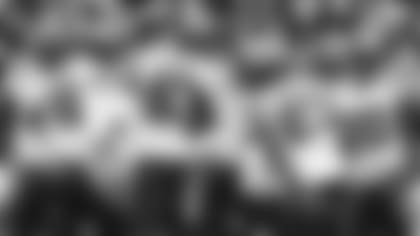 After an impressive defensive performance last week when the Jets limited the Redskins to 54 rushing yards, a unit overseen by Gregg Williams emerged as the top run-defense in the league. Still, the Green & White's defensive coordinator knows his group must sharpen its focus as it prepares to face the Raiders.
"In order to play very strong run defense, you need to have 11 guys being together," Williams said. "We don't catch and react. We're an attacking defense and you've got to do a really, really, really good job on not letting them get outside. When you let them get outside, it's a tough game to play because now you've got to match up with them in space. If your athlete isn't as good as their athlete – they [Raiders] do a good job. Tom Cable, [Coach] Jon Gruden, that staff is a really, really good staff on running the football and we've got our work cut out for us this week."
The Raiders' rushing offense is currently among the top 15 in the league, ranking ninth overall in rushing yards per game (128.2) and 11th in rushing yards per play (4.53). Running back Josh Jacobs — who has rushed for 923 yards, fourth-best in the league) and 7 touchdowns on 191 attempts — has been a staple in Gruden's offense.
"He is very solid," Williams said, referring to Jacobs. "He is very well-coached, and I knew a lot about him when he was at Alabama. He's doing things exactly the way John [Gruden] likes. He's a very sudden, powerful, one-cut kind of a runner. He's not a delayed type of guy at all behind the line of scrimmage, he attacks the line of scrimmage and he's protected the ball well for them too. We need to make sure we understand that you don't want to be in space by yourself with him because he can make you miss."
The run game isn't the only challenge that Gruden's offense will present on Sunday. Sixth-year quarterback Derek Carr has completed 72.3% of his passes — which is second-best in the league — for 2,494 yards, 15 touchdowns and 5 interceptions. With an opposing offense that is averaging more than 7 yards per play, the Jets will need to be savvy in their passing coverage.
"I think it's Year 2 with Jon," Williams said. "I see a lot of the same things I've seen out of quarterbacks that he has coached for a lot of years. I see Derek doing the same type of accurate throws that he's always done, but he's not afraid of taking the check down for the first time in his life and Jon over-coaches that. He does a really good job on making sure if it's not there, check it down. It's hard for younger quarterbacks to do that because they think they can make every throw in the book. He's doing a really good job with that, which is elevating the completion percentage and then also, you see those guys doing a good job with run after the catch when he's doing that. So, again, this will be a good test for us at this time of the year."
Between run-stopping and pass coverage, Williams has high expectations for his unit as the team gets ready to matchup against a playoff-contending team on Sunday. One more skill Williams would like for his group to sharpen is the ability to read and defend screen plays.
"Those are things we have to eliminate to take the next step of being as suffocating as we want to be on defense, but we didn't play that screen [last week] very well and we're always known for playing those things very well," said Williams. "So, we have to change some behavior habits at this time."
See Best Photos from Friday's Practice