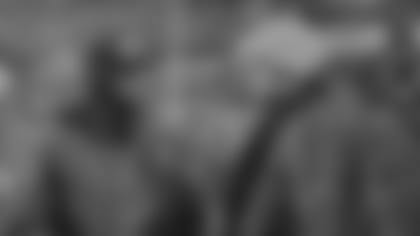 In a league where change is not only constant but also inevitable, consistency in 2020 could be the missing key to unlocking major success for Sam Darnold. Heading into his third professional season, it will be the first time in the last three years that the Jets' quarterback will remain in the same offensive system with the same coach for consecutive seasons.
"I think it's huge," said The Buffalo News' Vic Carucci of Darnold and Adam Gase's second season together. "I equate it to what I see with Josh Allen on a regular basis in Buffalo, having a coordinator/quarterback's coach and whisperer, having all of those things that Adam Gase is to Sam Darnold. It is hugely important to have that go from year one to year two."
Prior to this upcoming year, Darnold endured three successive football seasons — one year at USC and two in the NFL — in which he had to adjust to three different coaching staffs and offensive systems. And while coaching changes in the league are unavoidable, the the hope of seeeing the 6'3", 225-pound QB build on his 2019 foundation remains high.
"You start to get more comfortable and you know what your coach wants, and your coach knows what you want," said NFL Network's Mike Garafolo. "And you hope that the communication between the two gets a lot stronger. You start to finish each other's sentences in a lot of ways. You would hope that would be the case with a guy who — despite a lot of criticism — is still a great offensive mind in Adam Gase."
Under Gase's guidance in 2019, Darnold had his best professional season, recording highs in completions (273), yards (3,024), passing touchdowns (19) and rushing touchdowns (2) and a low in interceptions (13). The bulk of his success came in the latter half of the season, when he threw for 13 of his 19 touchdowns and 4 of his 13 interceptions. Darnold has displayed in both Jets seasons that after establishing chemistry and consistency within an offensive scheme, he sees more success as the season or goes on.
"The idea that you're in year two [with a coach] and that there aren't as many surprises and the communication has been established, I think it can be a big year for quarterbacks," said NFL Network's Kim Jones.
As the 2020 season approaches for the 22-year-old quarterback, one thing is certain: Darnold will have the freedom to build off last season's late success in a system he is both comfortable and familiar with.
"I think what we saw from the Jets the last half of the season was enough for me to be like, this is really headed in the right direction," said NFL Network's Ian Rapoport. "I would expect a somewhat busy offseason and I think they're going to get better."