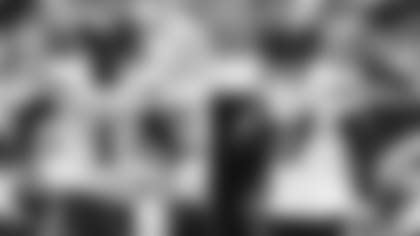 NFL Network analyst Brian Baldinger is an unabashed fan of the Jets' recent rookie class, especially when it comes to CB Ahmad Sauce Gardner and WR Garrett Wilson.
The two first-round draft picks -- No. 4 and No. 10 overall -- have already earned awards after their stellar rookie seasons, with two more big ones still up for grabs -- NFL Defensive and Offensive Rookie of the Year -- at the 12th annual NFL Honors at Symphony Hall in Phoenix on Feb. 9.
"The Jets had a great draft class, and if Breece [Hall] had stayed healthy all year maybe he's in the mix, too," Baldinger told host Eric Allen on the current edition of "The Official Jets Podcast." "Credit to Joe Douglas ... I felt they got the best corner and the best receiver in the draft, and they showed it. Also the mentality we all saw from Sauce, the first one on field every day, his preparation showed in games. Then we go all the way to the Week 18 game in Miami and they (the Dolphins) had Tyreek Hill and Jaylen Waddle and Wilson might have been the best receiver on the field that day."
If Gardner wins the defensive award, he would be the fifth Jets player since the merger (1970) to win, joining Erik McMillan (1988), Hugh Douglas (1995), Jonathan Vilma (2004) and Sheldon Richardson (2013). Coincidentally, a Jets player has won the award every nine years since 1995.
If Wilson wins the offensive award, he would be the first player in franchise history (since the merger) to win -- and the first to even receive a rookie of the year vote since 1996.
Baldinger sees Gardner's path to the accolade as a near certainty; while Wilson's path has been overshadowed by the play of San Francisco quarterback Brock Purdy.
"It's going to be hard not to pick Brock Purdy," Baldinger said of the final pick in last year's NFL Draft who has led the 49ers to the NFC title game. "Nothing against Garrett [who won the Pro Football Writer Assocation's award as the top rookie on offense], he's done it all year long with four quarterbacks. Nothing against [Seattle RB] Kenneth Walker. But with Purdy, [the Niners'] offense had never been this effective before he took over. He's the reason they're on the doorstep of the Super Bowl. It's going to be hard to overlook what he's accomplished."
Wilson led all rookie WRs with 83 receptions for 1,103 receiving yards -- both franchise records.
But when it comes to Gardner -- who this week won the PFWA's award as rookie of the year and defensive rookie of the year -- Baldinger is all in on Sauce.
"You got to give it to Sauce," Baldinger said. "He led the league in passes defensed [20], played every snap basically, tackled well [75], played zone and man up against the best receivers and kept them out of the end zone all year. He helped fix the back end of the defense. D.J. [Reed] was great, the front was terrific. But I have to give it to Sauce. I think he's what a Defensive Rookie of the Year should look like. And not because he plays in New York. I just think the most consistent player was Sauce. There were games where he did not get targeted, they didn't throw at him once. Sauce, to me, should be the recipient of the award.
"If you didn't know he was a rookie, you wouldn't know he's a rookie because he played like a great veteran corner. Not many have his strength, size, length, make up speed and eyes. Few players in the league have that combination of skills and talent."
At the same time, that the top rookies will be named, the NFL Honors program will also put a spotlight on two Jets legends -- CB Darrelle Revis and DL Joe Klecko.
Revis' numbers -- 25 interceptions, 112 passes defensed -- may not jump out at people, but he brought intangibles to the game and to the Jets that are hard to argue with, and that are likely to send Revis to the Pro Football Hall of Fame in Canton, OH, for induction in the summer.
"There was a five-year stretch where Revis was not only the best corner, he arguably was the best defensive player in the league," Baldinger said. "You can say it's a passing league, but I don't care who he went up against, big games, playoff games, didn't matter. Darrelle Revis was the best player on the field. You can't just look at the numbers. I believe he's a first-ballot Hall of Famer.
"You can ask Brandon Marshall. When he came to the Jets [from Chicago], I can remember doing an NFL Network show at training camp. They were going at it like it was the fourth quarter of a playoff game and you wonder why he could do what did in games."
Perhaps it's no coincidence that Marshall had one of his best seasons in the NFL -- 109 receptions, 1,502 receiving yards and a career-best 14 TD catches.
"I just know we haven't seen a player like that since. If I had a vote, I would vote for him."
Klecko, the versatile and relentless force along the Jets' defensive line from 1977-87, has to clear one final hurdle in the Pro Football Hall of Fame's Seniors selection process, with the final vote to come in Phoenix next month. Klecko finished his career playing a season for Indianapolis in 1988, where Baldinger said the former Jet had a huge impact on his career.
"We're all going to be celebrating this summer at training camp," Baldeinger said. "I played 12 years in the league, five years more than I should have. Joe became a teammate in Indy in 1988, when I discovered what the weight room was really about. He taught me how to lift weights and I survived 5 more years. I owe Joe 5 years of my career. He was so strong, a Pro Bowl player at three positions, which has never done before. He was so smart and so strong, I think he could still whip people now. His hands and footwork, he was still squatting 600 pounds after a game.
"He's getting into the Hall this summer and he won't be denied. NFL Honors could be a Jets sweep and a special weekend."