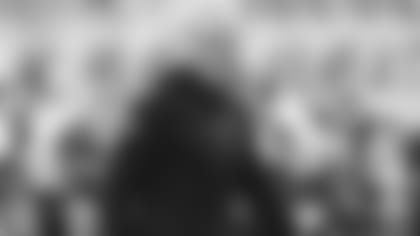 Throughout the offseason, NewYorkJets.com reporters Eric Allen, Ethan Greenberg, Randy Lange and Olivia Landis will each give their predictions to a series of questions regarding this year's Jets.
Today's question: Why are the Jets and Robert Saleh a perfect union?
EA: Saleh checks the boxes in character and leadership. He is also an effective communicator who has been praised for being an excellent teacher. The intensity and the passion on the sideline are one element that Saleh brings to the table. When the Jets reached an agreement in principle with Saleh on Thursday night, 49ers CB Richard Sherman tweeted that that the Jets "got a great one." Adversity does reveal character and Saleh had his men answer the bell in 2020. After finishing No. 1 in pass defense and No. 2 in total defense in 2019, Saleh was named Coordinator of the Year by The Sporting News. But injuries to key personnel at all defensive levels hit the 49ers hard this past season and Saleh was still able to get his group to rally and finish No. 4 against the pass, No. 5 in total yards and No. 7 against the run. He's also soaked in knowledge from head coaches along the way including Pete Carroll, Gary Kubiak, Gus Bradley, Dan Quinn and Kyle Shanahan. We'll hear from Saleh soon, but I have to imagine the allure of partnering with GM Joe Douglas, one of the most respected personnel men in the NFL, coupled with the support of the Johnson family and team president Hymie Elhai, draft capital and financial flexibility, and the opportunity to help develop a young roster with a few intriguing pieces sold him on the Jets. And on a note away from the field, New York is a melting pot that revels in its diversity. When he signs his contract, Robert Saleh will became the first Muslim head coach in NFL history.
EG: Robert Saleh is exactly who GM Joe Douglas and CEO Christopher Johnson said they were looking for. Douglas said he wanted a partner, someone with character and integrity, who's going to have a vision and help build the team'sidentity. That's who Saleh is He's well respected by the media, coaches and players. 49ers CB Richard Sherman, former 49ers Joe Staley and 49ers K Robbie Gould all tweeted about Saleh and how much they respect him. I think that holds weight because it shows he's relatable to all players. Sherman played under Saleh, but Staley and Gould didn't. All three phases of the game are represented by those tweets and shows he's a leader and the CEO-type coach Johnson said he was looking for. Intangibles -- check. On the field, Saleh's defense finished top 10 in the NFL in total yards, rush yards, pass yards despite a raft of injuries. In the 2019 season, San Francisco had the NFL's No. 2 defense and the No. 1 pass defense. Résumé -- check. So why is this a good landing spot for Saleh? Financial flexibility, draft capital and a young, talented core. Saleh inherits a team where the DL, much like San Francisco's, is the strength of the unit. From the outset, he can put his imprint on this team with the influx of draft picks and potential free agents.
RL: Saleh's curriculum vitae strikes a couple of different chords that will be important to the Jets and their fans. By all reports, he's a great motivator of athletes, whether it was his position group or his side of the ball, and now presumably it will continue with his team. For the Jets players who held together despite the way 2020 unfolded, this will be a key trait. He's also closer in age to the players he'll be coaching, not always important but in this case as 49ers HC Kyle Shanahan has said, "He knows about players, what they're talking about, and who doesn't know what they're talking about." The closer age also means he's from the digitally savvy age group. He knows how to work computers into his football operation, and how to maximize workload because of that. The key for me will be how he bridges that eternal NFL coaching divide to be able to coach offense as well as defense. Because of his college career as an all-conference TE at Northern Michigan and his stints in both offense and defensive quality control, I am optimistic that he'll be able to make superb connections with both sides of the ball as the Jets head deep into 2021.
OL: When Jets' GM Joe Douglas spoke to the media earlier this month about the head-coaching vacancy, he emphasized the characteristics that he and CEO Christopher Johnson were looking: character, integrity, and great communication and leadership skills. A couple of weeks later, they believe they've found their man: Robert Saleh. The San Francisco 49ers' former defensive coordinator, Saleh has proven his leadership abilities and passion for the game— and has been praised by the players he's coached on his way to becoming the head coach of the Jets. His career has been highlighted by the 49ers' 2019 NFC Championship and Super Bowl LIV run, however, his defensive unit has ranked among the top in the league in multiple categories for a few years. Despite losing some of the defense's star players this season (Nick Bosa, for example), his defense finished No. 5 overall in total yards.