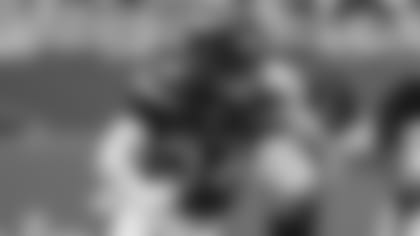 It's no secret that the Jets are banged up at cornerback. The group lost Trumaine Johnson, one of their opening-day starters, to injured reserve this week and Darryl Roberts, the Jets' other opening-day starter, did not practice Thursday or Friday with a calf injury.
Nate Hairston, whom the Green & White acquired via trade with the Colts in August, is in line to start his fourth game this season. But who will start opposite Hairston?
"We'll find out," head coach Adam Gase said. "Arthur (Maulet) and Brian (Poole), both of those guys have played nickel primarily, but we're just working through that."
Poole has been consistent at the nickel position against the pass and the run in his first year with the Green & White, totaling 47 tackles, which ranks fourth on the team, four stops for loss, and four pass defenses. The fourth-year pro played his first three seasons with the Falcons and is no stranger to injuries. Last year, Atlanta lost its starting LB, both starting safeties, both starting guards and a pair of running backs to injured reserve. But despite the moving pieces, Poole doesn't alter his mindset.
"Personally, my approach doesn't change," he said. "I approach every week with championship preparation."
Perhaps Maulet, who's bounced on and off the practice squad this year, will make his first start this season. The third-year pro has predominantly been a special teams player for the Jets and scored on a muffed punt in Week 3 against the Patriots. In his career, the 5'10", 190-pounder has played in 18 games (1 start) and has totaled 13 tackles.
"My work ethic stays the same," he said. "I prepare like I'm going to play regardless whether I'm playing or not. I pride myself on being a guy that knows everything. It's the NFL. Next man up and I pride myself in being ready.
"When I was in New Orleans and at Memphis, that's how I got my opportunity to play. The level of play should never go down, just keep that same level of play and put your teammates on your back so they can trust you."
In addition to Poole, Maulet and Hairston, the Jets have two more CBs on the roster — Maurice Canady, whom the team claimed off waivers from Baltimore Wednesday, and rookie Bless Austin, who was activated to the roster Thursday. Austin, a 2019 sixth-round pick out of Rutgers, has not played since September of 2018 when he tore his ACL in the Scarlet Knights' season opener.
"The good thing is he's been practicing very well," Gase said of Austin. "All of his movement skills, to me, look really good doing all that stuff. The contact stuff, when we've gone full pads, he's thudded guys up, but he hasn't had to tackle anybody to the ground and mix it up that way. That's really a big test for him."
Defensive coordinator Gregg Williams echoed similar sentiments about the rookie CB and said the Jets have been playing a lot of different guys on the outside throughout the week, which has been "fun to see." Regardless of whose number is called, Williams said the secondary needs to eliminate the one or two costly plays per drive.
"If you belong as a coach at this level, you take whoever gets an opportunity at this level to play and get him ready to go," Williams said. "Then you have to adapt the scheme and adapt some of the things you do to help guys fit in, and we do a good job of that here. We have to continue to do that."