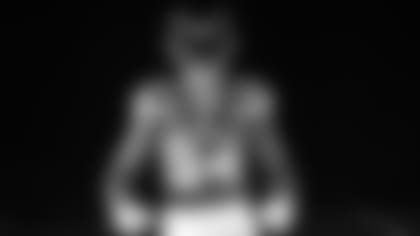 Throughout the offseason, NewYorkJets.com reporters Eric Allen, Ethan Greenberg and Randy Lange will each give their predictions to a series of questions regarding this year's Jets.
Today's question: How many sacks will the Jets in 2021?
EA:Jamison Crowder led all Jets pass catchers with 78 receptions and 833 receiving yards (in 2019) and then 59 receptions and 699 receiving yards in the 2020 season. The slot was the most trafficked position last season for the Jets as Braxton Berrios' 37 receptions ranked second on the offense. With a new system in place under Mike LaFleur, the Jets got significantly better at wideout this spring, signing Corey Davis and Keelan Cole in free agency and then landing Mississippi product Eli Moore in the second round of the draft. Davis, who nearly had his first 1,000-yard (984) season with the Titans in 2020, registered 65 catches in both 2018 and 2020. While Davis could be the Jets' No. 1 receiver, Cole quietly had a career-high 55 catches last season and offers position flexibility. In the country's top conference and in only eight games, Moore reeled in 89 catches for 1,193 yards and that production of 10.8 catches and 149.1 yds/g was absurd. LaFleur, the offensive coordinator, arrives from San Francisco where Brandon Aiyuk (60-748) led the 49ers in both receptions and yards as a rookie while appearing in 12 games. The year before, it was rookie wideout Deebo Samuel (57-802) who finished second behind TE George Kittle in both categories. Rookie QB Zach Wilson has a number of attractive options at his disposal, but I'll take Davis for yards and Moore for receptions.
EG:I'd like to answer with an unpopular opinion, but I agree with what most people believe, especially that Corey Davis will lead the Jets in receiving yards. Davis in 2018 under Matt LaFleur, the brother of Jets OC Mike LaFleur, had 65 receptions (tied career high), 891 yards (second-best season) and 4 touchdowns (second best). He also averaged 15.1 yards per reception last season in a similar offense with Tennessee and was 16 yards shy of reaching 1,000 receiving yards. Both offenses are predicated on the run and taking shots off play-action passes. Receptions are a tricky answer. Rookie Elijah Moore had an impressive spring and showed good chemistry with Zach Wilson. I don't expect either of those to change once the pads come on. Moore was a receptions monster last season at Ole Miss, setting a single-season school record with 86. Vikings WR Justin Jefferson led all rookies with 88 receptions in the 2020 season and was the fifth WR taken in his class. Moore was the sixth at pick No. 34. That means nothing, but it shows you don't have to be a top-20 pick to make an immediate impact. Jamison Crowder, however, has more experience than Moore, so it wouldn't surprise me if Crowder led the team in receptions. In his last 16-game season, Crowder had 78 receptions (2019). It'll come down to playing time and health.
RL: This is a tough one. I'd like to be creative and say the West Coast Jets' leading receivers will be TE Chris Herndon and/or RB Tevin Coleman. But Herndon has to show he can sustain his four-game upsurges over a full season, and Coleman, as good and fast as he is, has never had more than 32 catches in a season. That leaves the wide receivers. Consider that new OC Mike LaFleur, in his fourth year as San Fran's passing game coordinator last season, had two WRs (Brandon Aiyuk, Kendrick Bourne) at the top of the offense in catches and yards. Also, Zach Wilson's favorite targets at BYU in 2020 were easily his wideouts. So it says here that three wideouts will jockey for the stat leadership among Jets receivers in the '21 season — Jamison Crowder (65 catches/season in five healthy NFL seasons) will lead in receptions, Corey Davis will top the yards column with his first 1,000-yard campaign as a pro, and rookie Elijah Moore (75 catches/season in his last two years at Ole Miss) will challenge both vets in both categories.