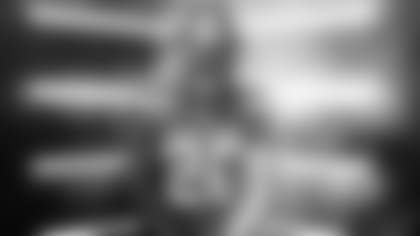 Throughout the offseason, NewYorkJets.com reporters Eric Allen, Ethan Greenberg and Randy Lange will each give their predictions to a series of questions regarding this year's Jets.
Today's question: Who will lead the Jets in interceptions in 2021?
EA: Last season, the Jets had 10 interceptions and 7 of those came from players no longer on the roster. Pierre Desir led the club with 3 INTs but was released in November after appearing in nine contests. The Green & White totaled 12 picks in 2019 and Neville Hewitt, who joined the Houston Texans in free agency, led the way with 2. Marcus Maye, the Jets' 2020 Curtis Martin Team MVP who has 6 career thefts, is the only current Jet to have an INT in each of the past two seasons. The instinctive C.J. Mosley, who collected 4 INTS with the Ravens in 2016, could play the role of a dark horse candidate here as the ball has a way of finding good players. The cornerback battle will be closely watched in training camp as youth leads the way there. I'm going to lean towards Maye, who made a pair of sensational picks last season. With Lamarcus Joynerpotential coming down and playing man in sub packages, Maye should be able to benefit from the chaos the Jets create up front with a strong defensive line that added Carl Lawson. Bryce Hall could be a good fit for this system on the outside and he's got good length and ball skills, so I won't be surprised if he's right up there as well.
EG: I think most realistic answer is Marcus Maye. The Jets' 2020 Curtis Martin Team MVP, Maye is the longest-tenured Jet and has the most experience in the secondary outside of Lamarcus Joyner, who has 4 career interceptions in seven seasons. Maye, on the other hand, has 6 picks in four seasons. Reading the tea leaves listening to both head coach Robert Saleh and defensive coordinator Jeff Ulbrich, it seems like Maye will be a chess piece in that he'll line up both by the line of scrimmage and further back in a more traditional role. Being closer to the line could limit his chances for an interception, but Maye is a savvy player with good ball skills. He had 11 pass defenses in addition to his team-leading 2 interceptions in the 2020 season. I'm curious to see what type of second-year jump Bryce Hall takes this season because he had outstanding ball production at Virginia and led the nation in PDs in 2018. I also have my eye on rookie Jason Pinnock. He has good size (6-0, 205) and had 6 INTs in his final three seasons at Pitt.
RL: The popular choice here is Marcus Maye and he's certainly in my top 3 to lead the Jets in picks. But for the sake of the corners, I'm going with Bless Austin to bust out in a big way. Why would I pick a CB who has no INTs in his first 18 games over his first two NFL seasons to hang up decent numbers in Year 3? Well, I like Austin's humble attitude and dedicated work ethic, from the little I talked to him back in 2019. I also like some metrics he's put up. In '19 he was one of only two Jets CBs to post "burn rates" of under 60%, according to StatsPass, the other being solid slotman Brian Poole. And last year Austin led the Jets CBs with a 63.1% burn rate, a little higher but good under the circumstances. He got his hands on enough balls at Rutgers from 2015-18 (4 INTs, 19 PDs) to know it's time for him to step up and do it again. And he should get help from DC Jeff Ulbrich's scheme and from what looks to be an improved pass rush.