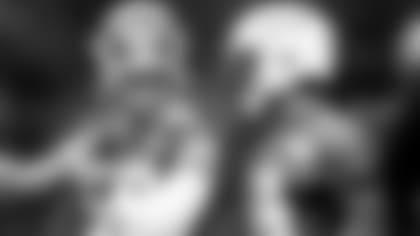 Jets head coach Todd Bowles addressed the media following the team's first practice in this week's minicamp. The team will have three practices open to the media before the players break for a little over a month.
New Quarterback(s) of the Defense
Last year, Demario Davis called the majority of the plays on defense. With Davis' free agency departure to the Big Easy, the unit will have at least two new play callers.
"Darron [Lee] is the signal caller and Avery [Williamson] has some signal calling as well," Bowles said. Williamson, whom the Jets signed in free agency, will take on more responsibility once he learns more of the defense.
Bowles added, "Depending on the package, it could be a different guy, but Darron and Avery will take care of most of it."
Sharpening the Mind
Second-year safety Marcus Maye has yet to practice this spring, but Maye said he "should be" ready for the start of training camp as he's rehabbing an ankle injury suffered in last year's season finale. Bowles said Maye has been watching a lot of film and expects the 2017 second-round pick to be sharper mentally when he returns to practice.
"It doesn't as long as he comes back," Bowles said of whether the injury will hinder Maye's progress. "Sometimes when a player gets hurt, he can see the game from the sideline from a different vantage point whereas if he were healthy and you put him on the field, he doesn't' catch it as quick. He's getting a lot of mental reps on the sideline and time will tell when he comes back how much he learned."
Buckle Up
Tuesday's practice marked the first time since last August that wide receiver Quincy Enunwa wore a helmet in practice. Enunwa, who's returning from a neck injury, wore a baseball hat throughout OTAs and is still only taking part in individual drills. Bowles said he expects the fourth-year receiver to be "highly competitive" in training camp.
"It's been a process and it changes gradually. Sometimes he feels better, but it changes," Bowles said. "We scheduled to put a helmet on him and let him run around in it to get a feel."
Back End Depth
The Jets signed safety J.J. Wilcox last week as Rontez Miles is expected to miss considerable amount of time with a knee injury. Miles only practiced in one of the three OTAs open to the media. 
"When Tez went down, we needed another safety. J.J. is one of those guys who started a lot of ball games," Bowles said. "We're looking for versatility at that spot and he can play both free and strong. That's one of the reasons why we signed him."
Tryout Players
The Jets are hosting six tryouts during their three-day minicamp including seventh-year DL Courtney Upshaw, who was drafted in the second round by the Ravens in 2012. 
The other five tryouts include WR Phil Mayhue (6'2", 215, Memphis), WR Patrick Smith (6'0", 190, Tennessee State), S Keith McGill (6'3", 210, Utah), WR Daniel Williams (6'2", 234, Jackson State) and DL Courtney Upshaw (6'2", 272, Alabama).