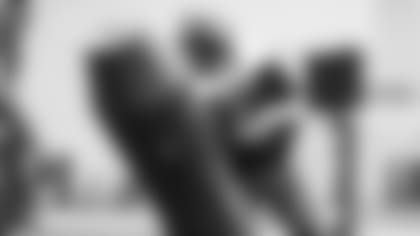 Even though Jets first-round pick Quinnen Williams has been restricted throughout OTAs and minicamp with a calf injury, he's consistently in veteran defensive lineman Steve McLendon's pocket.
"The thing he always tells me is be the best I can be every day and yesterday doesn't mean anything," Williams said following Wednesday's minicamp practice. "A lot of people say that, but knowing that he's still learning and he still makes mistakes, he'll learn from me. It's amazing to see. He always coaches me up to the side when I come off the field. 'Q, your first step has to be vertical, it can't be horizontal.' Then when he comes off the field I'm like, 'Bro, your first step was horizontal, you have to get it vertical.'
"So we just feed off each other, but he helps me tremendously. He really took me under his wing and I really have a role model to follow in everything we do."
The 2019 No. 3 overall pick said the 10-year veteran has provided a "blueprint" for the rookie, but they also discuss life off of the field such as kids, how to save money, and how to develop a routine. McLendon, who went undrafted in 2009, said the 21-year-old Williams comes to work with a smile every day and consistently picks his brain about what he was seeing and thinking on certain plays. McLendon already sees so much potential in Williams that he believes when he's no longer around the team, Williams can step in and make a "huge impact" in the league, even in 2019.
It's possible that Williams and McLendon could be battling for one starting spot, which doesn't faze the 33-year-old McLendon.
"That's part of the business, man," he said. "I'm not going to change the way I look at the process. I've been fortunate and blessed throughout this journey. But just like I tell every other young man, every guy that's older or younger, I'm going to make you work. I've been a fighter all my life."
Williams, who wreaked havoc in SEC backfields last season, played multiple positions at Alabama, which makes him a good fit in defensive coordinator Gregg Williams' attacking scheme. A one-year starter, the former Crimson Tide racked up eight sacks and 19.5 tackles for loss in 2018.
"Me, just being smart enough with a high IQ, I'm learning all three positions," he said. "Wherever he wants me to play, I'm going to be able to play it. Whatever he thinks is best for me, I'm going to be able to play it. There are a lot of great coaches, who have coached a lot of great guys, so wherever they feel like I'm able to play, I'm going to play it."
Even though the majority of Williams' reps in OTAs and minicamp have been mental, he lined up with the third-team defense for a handful of snaps on Wednesday and is expected to have an increased workload next week.
"We have another week, so he'll be full go next week, which will be great," head coach Adam Gase said. "It's that not doing anything really football wise and then ramping it up. We had him for a week, but it just wasn't enough time to get him ready and we just kind of had a little bit of a scare with his calf."